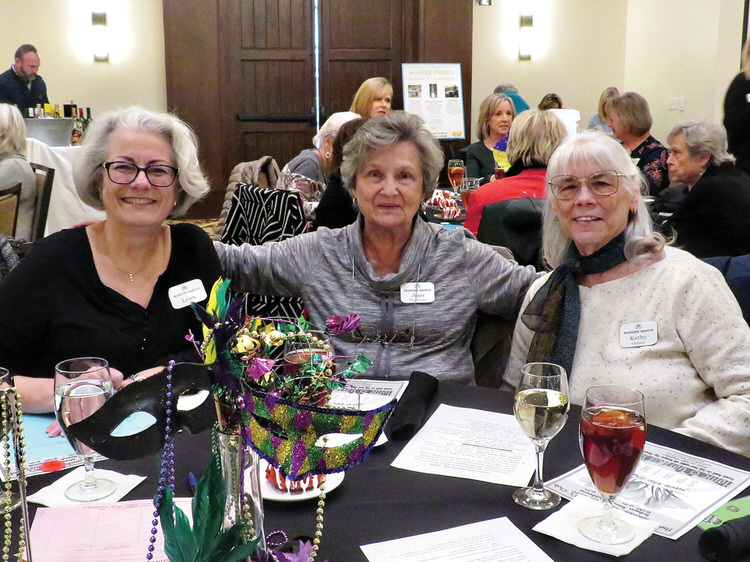 Mardi Gras beads and every shade of green, gold, and purple welcomed the Women's Club members and guests to the March luncheon meeting on Monday, March 7, in the clubhouse ballroom!
President Rose Depoe called the meeting to order and welcomed members and guests to the Mardi Gras celebration. President-elect Nancy Garre introduced first-time attendees who, in turn, shared where they moved from, how long they have lived at Robson Ranch, and where they live in the community. March birthdays were also recognized. Rose announced our membership is now 334!
President Rose Depoe then proceeded to acknowledge and thank the luncheon check-in volunteers, the greeters, and table decorators who worked at the March luncheon.
President Depoe also reminded everyone that the Women's Club "It's Your Lucky Day" St. Patrick's Day Social would be Wednesday, March 9, from 4 to 6 p.m. in the Wildhorse Grill lounge. There would be fun games and questions based on the various areas. Everyone was encouraged to wear green and be ready for an entertaining afternoon!
Ways and Means Committee member Cindy Laboi reported all booth spaces and sponsorships for the Home and Garden Show were sold. She thanked her fellow committee members for all their hard work. Cindy also thanked the Women's Club members for buying raffle tickets. Everyone was looking forward to the spring event on Saturday, March 26!
President Depoe also shared details about the club's first 2022 day outing, "A Day in Grapevine," complete with guided tours, shopping, and lunch, on Tuesday, April 5.
Programs Chairperson Diane Eoff introduced the March luncheon speaker, Donna Collins. Donna provided an inspiring and informative story of her life. She began her career as an art teacher, then started a ceramics business and provided artwork for Southwest Airlines. Her career culminated with her living with the Saudi Arabian Royal Family and creating artworks for them. She left that position and started her Jelly Queens jams, jellies, and spices business and has a very successful store in McKinney. Her presentation was very well received.
Please join us for our May luncheon on Monday, May 2, featuring Kay Thibodeaux, head chocolatier and president of The Touring Chocolatier. With over a decade of experience in the chocolate industry, Kay is constantly honing her confectionary-making skills, obtaining a degree from Ecole Chocolat. She has worked with influential and award-winning chocolate industry personnel such as Ed Seguine, member of the Heirloom Cacao Preservation Initiative. Bring your purse! Kay will have a table at the luncheon to sell her wrapped candies and gift items! This promises to be an entertaining and delicious luncheon!
The buffet luncheon menu will be chicken enchiladas with supreme sauce, Spanish rice, and refried beans, and dessert will be tres leches cake.
Our May Charity is the Denton Community Food Center.
Deposit your $19 luncheon check in the Cimarron Sports Center Women's Lounge, in the mailbox, or pay with PayPal at rrwomensclub.org by Tuesday, April 26 (noon).
See you May 2!