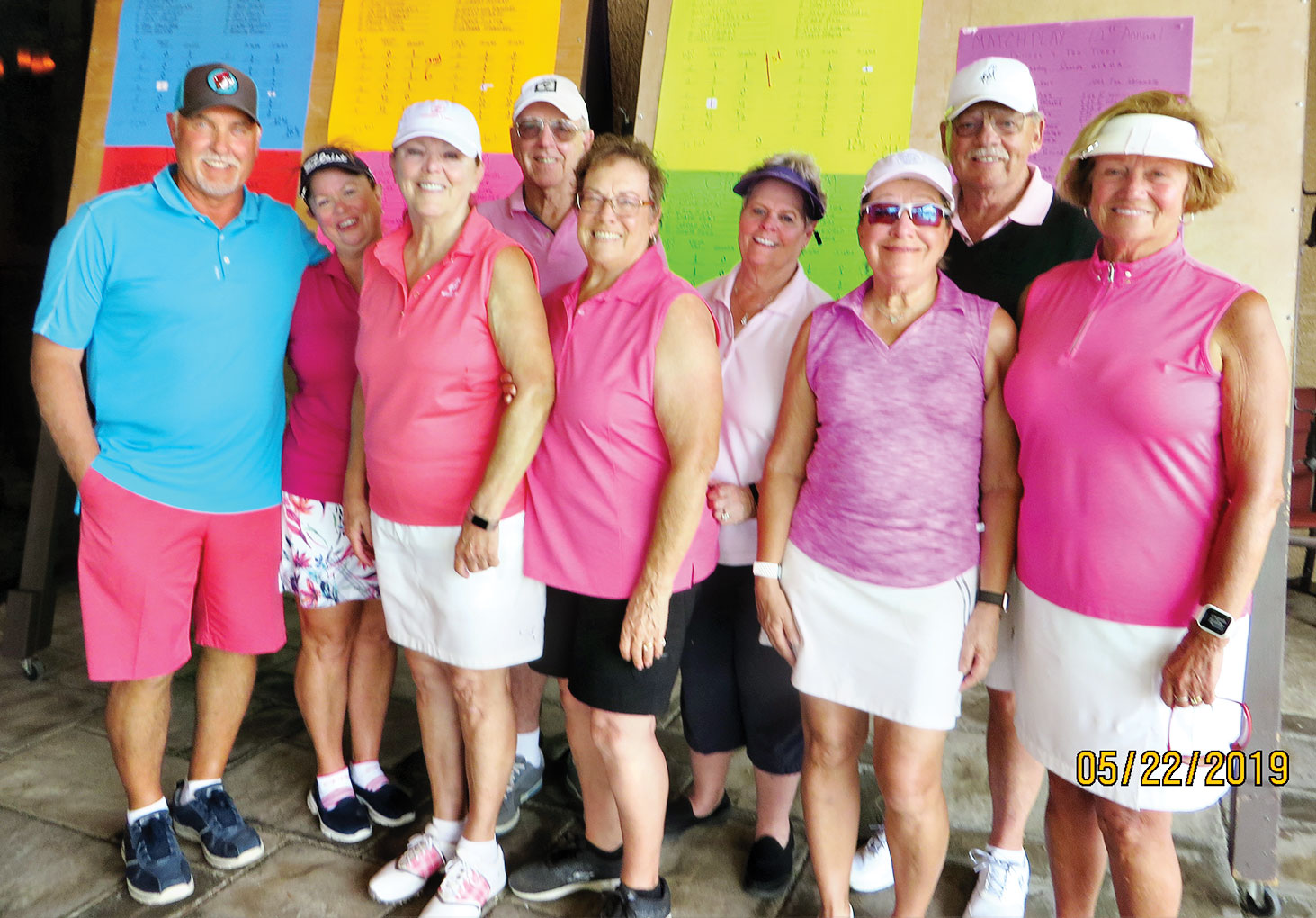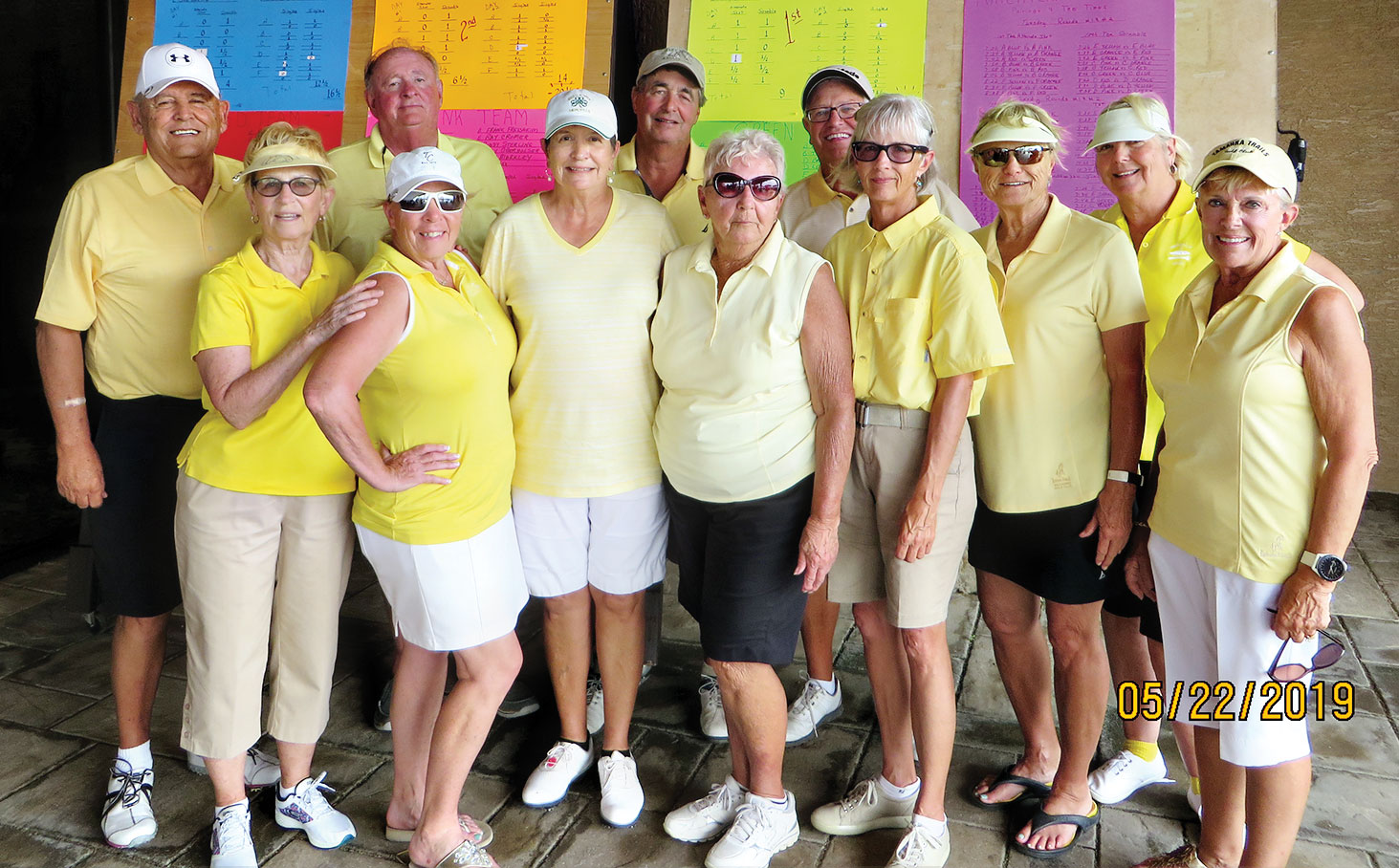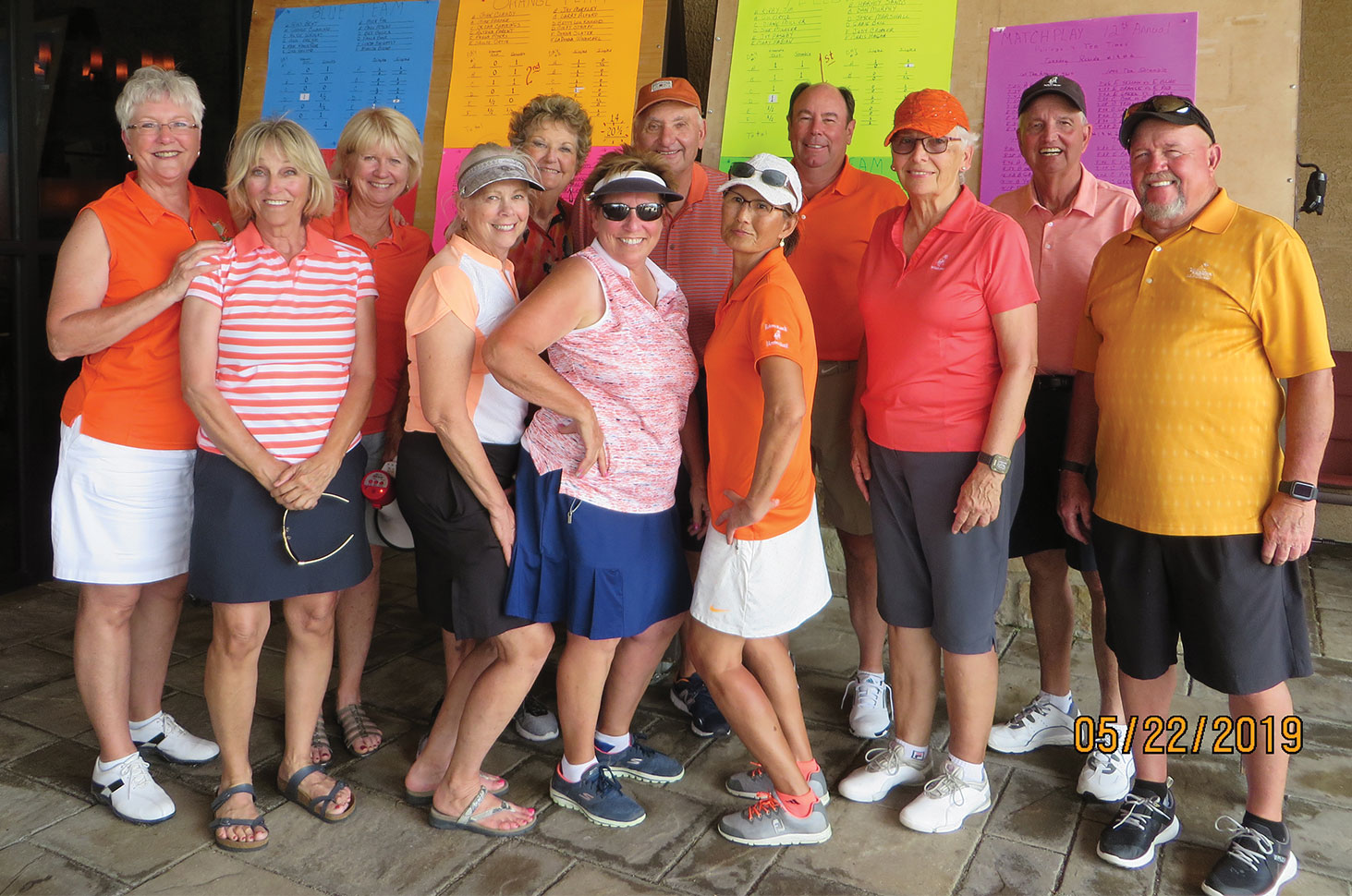 The RRWGA had their annual Match Play Tournament on May 21 and May 22. There were 48 Women's Golf Association players and 24 MGA players in the tournament. The format was a team match play.
A party was held on Friday, May 17 to pick team members and team colors. The party was hosted by the tournament chairs Sallye Ortiz and Susan Miloser at the home of Mike and Susan Miloser. Lots of people showed up for the event to watch the drawing of teams along with colors being assigned to each team.
On Tuesday morning, about the time play was to begin, we had big rain/thunderstorms that caused three rain delays! By 11:00 a.m. we were off! The first day formats were a 9-hole Scramble and a 9-hole Alternate Shot. Scoring points were awarded based on a win or a tie between two teams determined by two players from each team playing two other players on another team according to individual handicaps. The first day you could win a maximum of two points. After playing 9 holes – the course was beautiful and actually dried out enough to where we could drive the carts back on the course; the first 9 holes were cart path only holes.
On Wednesday morning we could not have had a better day; great weather, great temperatures, of course windy, but a gorgeous green course on which to play our individual team matches. The maximum points a team could win on Day 2 was four points – a point for each win or a half point for a tie between the two teams.
After play we had a wonderful lunch on the patio of fried chicken, macaroni and cheese and potato salad. For dessert it was make your own banana split with all the toppings.
The tournament had six teams: Yellow, Orange, Green, Blue, Red and Pink. Each team consisted of 12 players, with each set of team levels determined by handicaps. The winners were the following:
1st Place Team – Yellow Shirts: Jim Kirby; Gil Ortiz; Harvey Sands; Dan Murphy; Diane Miller; Sue Miloser; Joyce Marshall; Gabie Bull; Joy Pashby; Mary Fabian; Judy Cromer and Chris Hagan.
2nd Place Team – Orange Shirts: John Claudy; Mike Farmer; Larry Alford; Jay Markley; Ok Cha Cummings; Althea Parent; Betty Lou Knowles; Cyndi Stampf; Paula Myers; Sallye Ortiz; Donna Slater and LaDonna Womochel.
This was a fun two-day tournament. We invite you to join the RRWGA and come out and play this annual event with us next year. We also have fun RRWGA playdays every Tuesday so come out and join the RRWGA. If you would like to join, please contact Bev Busick, Membership Chair, at 940-262-0887 or [email protected]