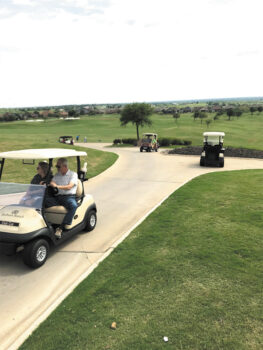 Dennis Anderson
Robson Ranch Denton held a golf course tour for homeowners on Oct. 18 and what a great turn out! Over 850 residents toured the courses on a beautiful day.
The residents toured the original 9-hole course and then proceeded to the new 9-hole course that was just completed. We toured the new course before it was opened for play on Oct. 23.
We now have three 9-hole courses at the Wildhorse Golf Course here at Robson Ranch: the original 9, now called the South Course, the 9-hole West Course, and now the 9-hole North Course — 27 holes of fun.
Feedback and comments from the residents were great. And a big thank you to the golf staff and the golf course maintenance staff for their support in making this tour the success that it was.
The tour was hosted by the Robson Ranch HOA Board and the Golf and Greens Committee.