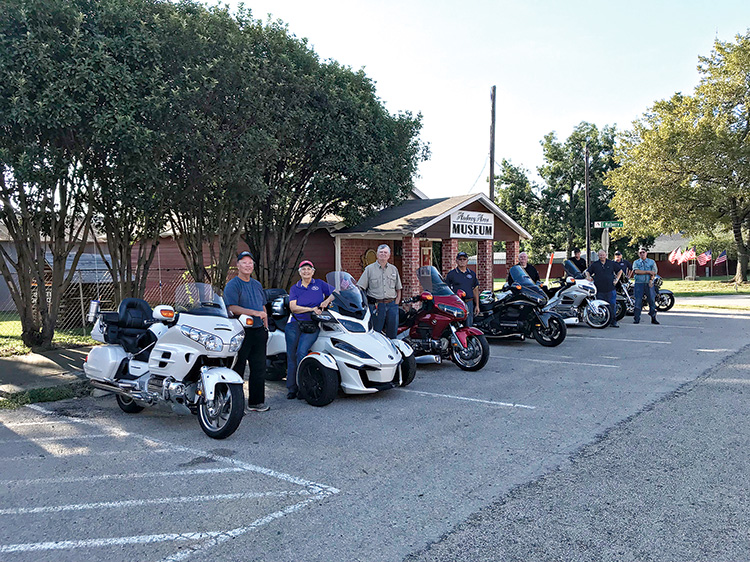 Stan Brein
Motorcyclists enjoy autumn. We look forward to cooler temperatures and colorful foliage. However, this September turned out to be a month of intense heat and busy schedules for club members. This combined for limited availability of riders and cancellation of some scheduled events.
The club did get to hold a breakfast ride on Sept. 10 to the Upper Park Café in Aubrey, TX. Dave Riddle performed the ride captain duties, joined by Marti and Mike Conley, Steve Haugen, Elaine and Edward Barnett, Bill Culhane, Martin Munoz, Jim Sico, Joseph Ace for an enjoyable morning ride. A stop at the Aubrey Area Museum for a picture and a peek in was also in order. The Upper Park Cafe combines downhome town style with a touch of modern decor. They have delicious fresh dishes and friendly staff, which makes for a fun dining experience. And, their gourmet coffees are great. The Café also caters weddings and other events. They are open for breakfast and lunch seven days a week from 6 a.m. to 2 p.m.
Joseph Ace led an impromptu ride that started out for Saint Jo, was redirected at a coffee stop at Forestburg. Coffee makes the mind clearer, so we decided to head for the Greenwood Grocery. Located adjacent to the LBJ Grasslands National, the small community of Greenwood, TX, sits just 17 miles outside of Decatur off Highway 51. As you drive the rural back roads of large tree canopies, you're greeted by grazing cattle, horses, hay meadows, and a welcome sign to Greenwood. The rural town was settled well back in the 1850s, serving as a supply hub for the surrounding farming communities. Once settled, as the story goes, two families were present, the Greenwoods and the Harts. When naming the town, they used Greenwood, and when naming the creek, it was called Hart Creek. During its "hay-day," Greenwood grew to a sizeable settlement. The food is exceptional and worth the ride. They are open 8:00 a.m. to 2:00 p.m. Monday through Friday. Saturday, they extend from 7:00 a.m. to 8:30 p.m. with live music, catfish, beer, and BYOB.
Don't forget the Coats for Kids Ride on Sunday, Nov. 24. See the information in the Pioneer Press, and in the HOA email blasts. Please consider donating a new coat to the ride!
See you on the road!
Beware of cagers and keep the rubber side down.