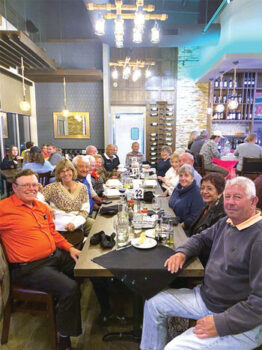 As luck would have it, the club's November gathering, which was to have been in one of our members' homes, had to be canceled at the last minute due to COVID-19 exposure by our hosts. We wished them well!
We did not let that deter us from gathering and having a great time. On short notice, Belle Italia Bistro's manager Al, in Northlake Commons, welcomed our group of 18 for dinner. Their service was excellent, the food enjoyed by all, and most importantly, we got to visit with each other.
We will be meeting again on Dec. 16. Our Christmas gatherings are always fun. An email will be sent out about a week before the event to our members and to those of you who have shown interest in attending one of our gatherings.
To qualify for membership, you must have been born to a foreign parent in a foreign country. U.S. spouses and significant others are welcome to join with our new members. Annual dues for a single person are $10, and couples are $15. If you qualify, we'd be happy to have you join our club or come to one of our gatherings as a guest if you are considering joining and want to see what we're all about.
For more information, please contact Kathy Smart at [email protected] or call 817-597-9039.