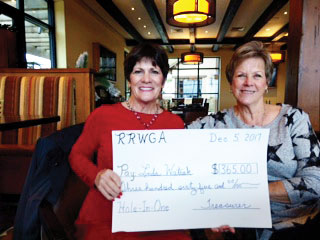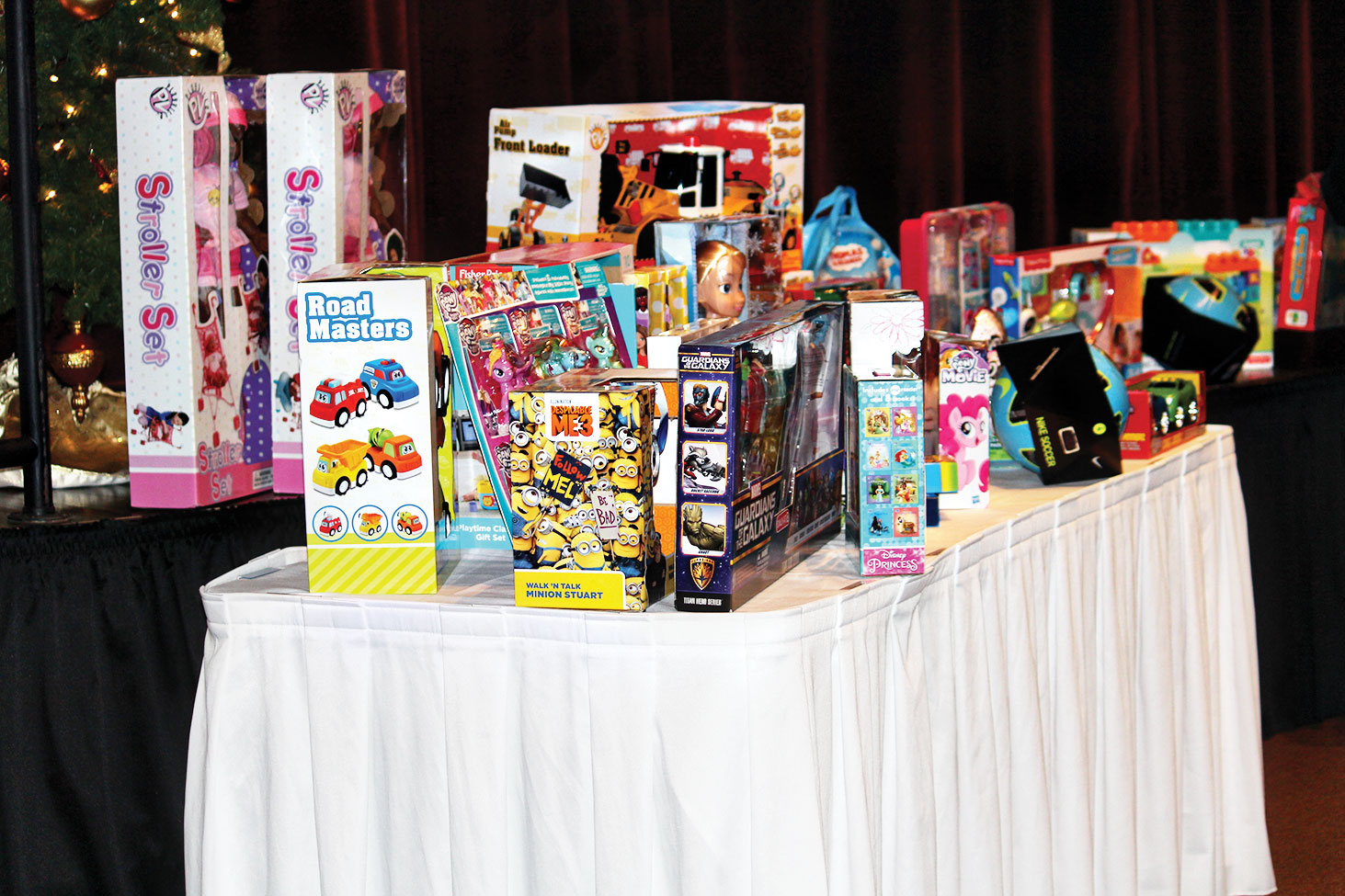 Mary Beninato
The RRWGA members celebrated Christmas at our annual Christmas Party on December 5, 2017. We didn't just celebrate though. We brought donations for Toys for Tots, food for the After Schoolers Christmas baskets, toiletries and cash donations to our Daily Bread. Everyone was very generous.
The festivities started at 10:00 a.m. with a five-course brunch prepared by Chef Aubrey and coordinated social chair Judy Markley. It was truly delicious and abundant. The brunch started with an apple pecan strudel with mescaline greens, followed by Bloody Mary shrimp cocktail, Florentine frittata and banana stuffed bread pudding with shaved chocolate topping.
Following brunch President Diane Bent expressed her gratitude to the Board members and all of the ladies that helped make the year so successful.
The new executive board was then installed: president, Donna Phillips; vice-president, Alice Wright; treasurer, Darlene Lamb; secretary, Pat Sands.
Brenda Alford announced the ladies who had chip-ins and birdies during the golf year play days. There were 42 ladies with one or more chip-ins led by Sallye Ortiz with five. There were 38 ladies with one or more birdies led by Pat Sands with eight. The most improved golfer for the year was Katheryn Claudy. The top winners received special pins. Ladies that broke 100 for the first time on a play day are Paula Bone, Jeanie Martinez and Cindy Sterling.
Mary Beninato then announced the Ringer winners. We had a record 63 participants this year. These ladies were split into five flights, with awards going to first, second and third place in each flight. There were quite a few card-offs in each flight for second and third place, but all first place ladies clearly won. The 1st place winners are:
Flight 1 – Pat Sands; Flight 2 – Jeannie Martinez; Flight 3 – Sarah Ray; Flight 4 – Paula Bone; Flight 5 – Ladonna Womochel.
As of December 5, Linda Watrak is the only one to get a hole-in-one. You have until December 31 to get a hole-in-one to share the pot with Linda. Good luck and congratulations to Linda.
If you would like to join the Robson Ranch Women's Golf Association, there are membership application forms located in the Pro Shop and by the reception desk in the clubhouse. Forms can also be downloaded from www.rrwga.weebley.com and on the HOA websites. Membership dues are $45, which includes your GHIN handicap and the Christmas party. Optional fees that may be included are $5 for Hole-In-One Club and $5 for Ringer Tournament (play day scores throughout the golf year). Please note on your check if optional fees are included. Please deposit your check made out to RRWGA along with the membership application form and deposit in the black box on the bulletin board in the Pro Shop.
We hope that everyone had a very Merry Christmas and continues to have the most wonderful New Year.