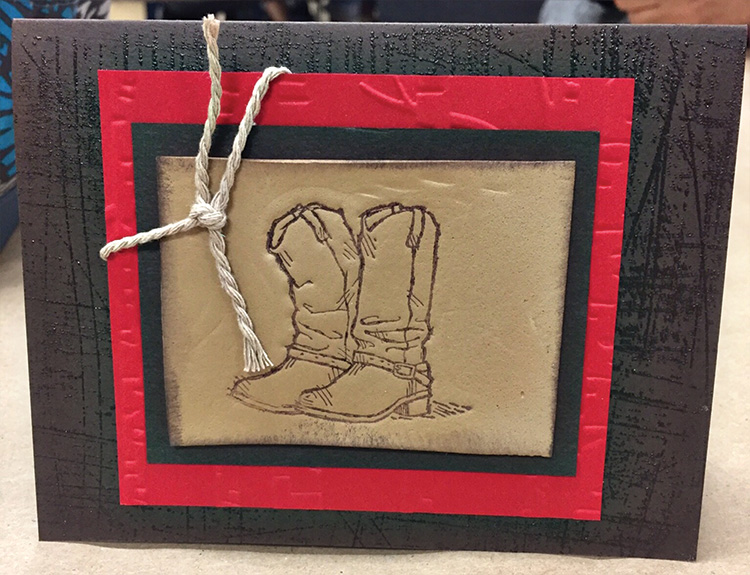 Diana Krug, the current Sassy Stampers Club president, was the project lead for our June meeting held on Saturday, June 15, in the Creative Arts and Technology Center, room 104. This month, we made a beautiful card using faux embossing with a country flare. Thanks, Diana, for teaching us how to create a great card. A big thank you also goes out to each volunteer table teacher. At each meeting, there are table teachers who assist the project lead by helping teach the card for their respective table during the monthly Sassy Stamper meeting. The tables seat four to five members so each table gets expert direction on making the monthly card.
During each meeting, members are encouraged to bring cards that will be displayed in our window exhibit for the club. We also have two drawings at each meeting where the winners receive a gift card at a local craft store. This month the two winners were:
Liz Dinkins: Window display theme winner. The display window committee provides details on what cards they are looking for at our next club meeting. This month's theme was red, white and blue!
JoAnn Gantos: Challenge card winner. Every month, members are encouraged to make a card they learned the previous month but with their own flair and theme. This month, the challenge was using at least four different papers on a card.
The Sassy Stamper club meets every month on the third Saturday, and throughout the year, they make ten cards. One month out of the year (usually July) is dedicated to learning new techniques. Multiple techniques are demonstrated and taught to the club members during this meeting. In December, we celebrate the year with a luncheon including games, prizes and a gift exchange. Annual dues for the club are only $15.
The club works hard for the Support our Troops effort. During a recent meeting, 210 cards were donated to support this great cause.
Please stop by the Creative Arts and Technology Center and check out our window display of beautiful cards made by our members. We would love to see you at our next meeting on July 20 at 10:00 a.m. in room 104 of the Creative Arts and Technology Center.
If you have further questions, please contact Diana Krug at 940-262-3184.