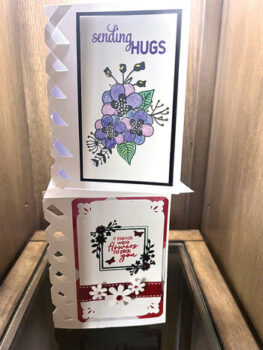 Cherlyn Conway
The braided edge card was April's project card for the Stampers who attended classes on April 16. This class project was brought to us by Debbie Warrick.
As with most of the monthly presentations, there were skeptics among us. Could we handle this card? Of course, there was no reason to have doubts, as the table teachers took our hand and guided us down the instruction list on how to create this fun and different card. Soon, all the tables were coming up with different ideas on what you could do with this card. Several of the teachers brought various samples of the different types of cards they had created at home and provided a variety of stamps to make our own creation for the front of the card.
The club held classes at 9 and 10:30 a.m. The "two-a-day" classes will continue for the foreseeable future, as this arrangement allows plenty of table space for all the Stampers and the new Stampers who attend their first class.
With every meeting day, there are several who provide cards for the Stampers' display window. For April, the colors of yellow, green, and pink were requested. There is a drawing for gift cards for those who bring cards for the window. Our May color request is for cards of blue and purple. Stop by the CATC and check out the Sassy Stamper window filled with the amazing cards with bright and cheery spring colors. Our fellow Stampers do a great job changing the display window on a monthly basis.
A new member orientation class was recently held to introduce new members to the club, equipment, tools, supplies, and what is involved in making cards. This orientation can help a new member determine if they want to attend a class once a month and make just one card (we have several members who have taken this route) or not to invest much in the way of equipment and supplies but take advantage of the Stampathon days where the equipment cupboards are open for club use, or to dive in and invest in tools and supplies to make cards at home. New orientation classes will be held as needed.
If you have any interest in the craft of making cards, we invite you to join us as a guest for one class for $3. You only need to RSVP to Lisa Olson. Our classes are held the third Saturday of the month, and our next class will be May 21. Our annual dues are $15, which covers the cost of card kits and instruction each month. For further information or to RSVP for a class, please contact Lisa Olson at 817-903-9894 or [email protected]
Keep on Stamping, ink-side down!