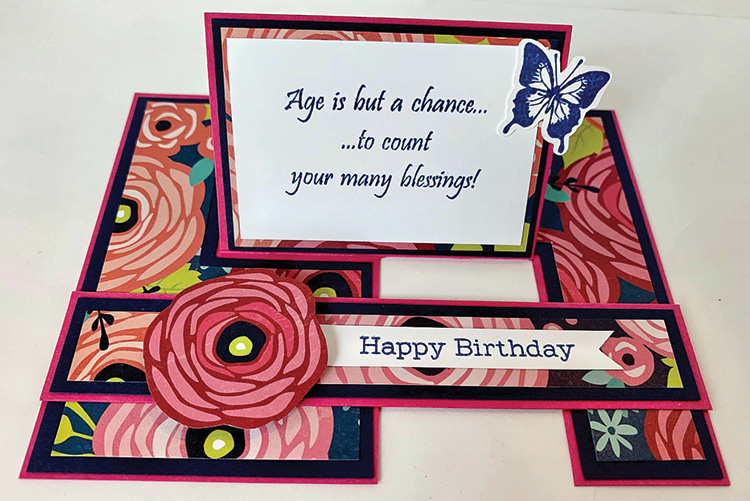 JoAnn Gantos
Another month under COVID-19 restrictions, yet the Sassy Stampers have not missed a step. We are continuing to meet monthly online to make fun and versatile cards together. We regularly meet on the third Saturday of the month but the virus has prevented us from meeting in person. We do have a large number of club members, so under these circumstances the online get-together has worked out great.
Patsy Collins, a long-time club member, was the project lead for our June meeting. She presented the "Impossible Card" which is a very versatile card. She provided easy to follow documentation along with multiple card examples. Her Facebook Live video was so professional too. Patsy, a former teacher, is also a teacher for Sassy Stamper beginner members who have never stamped or need a refresher course. She made templates for all the member card kits so that club members can create this card using the many options she explained.
For those of you who are wanting to see some of our homemade cards, please visit the Creative Arts & Technology Center. We have a window display (near room 104) of cards made by our members. We make 10 cards a year together during our monthly meetings. One month, usually July, we have a techniques meeting where we learn new techniques or a refresher on past learned techniques. We end the year with a Christmas celebration.
Although COVID-19 has kept us physically apart, we are forever Stampers and with our Facebook group page we have stayed active. Club members are posting pictures of their creations and that is what is fun to see. We have great talent in our club and look forward to when we can all get together in person to celebrate our accomplishments and grow our friendships.
As our window display says, "We are all in this together, and we all keep on STAMPING!"