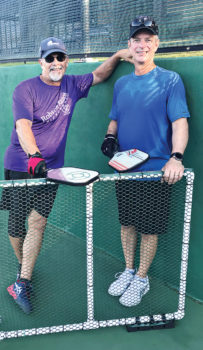 Dave Parker
With over 500 members of the Robson Ranch Pickleball Club, you could guess that it takes a lot of volunteers to efficiently run the club. It is impossible to list all of the volunteers that have stepped forward over the years.
For this article, the club would like to highlight two individuals who volunteered to design and build the gates that separate the courts and prevent pickleballs from bouncing onto other courts, disrupting play and causing a tripping hazard. Steve Courtney, who is an engineer and master woodworker, came up with the original design of the gates. The design included using PVC pipe as a frame, plastic chicken fence for netting, machines and painted wooden parts for gate hinges, and a foam base that kept the wind from blowing the gates open. Spike Evans further refined the gates by adding metal hinges to replace the wooden ones, UV resistant zip ties, a center PVC pipe to strengthen the gate, and wider foam bases.
The Pickleball Club thanks Steve and Spike and all of the hundreds of volunteers who have made the club what it is today. If you are interested in pickleball, visit the club website at www.rrdpc.com.