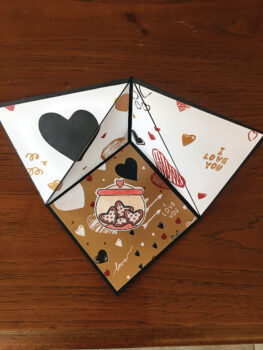 JoAnn Gantos
The Sassy Stampers met on Saturday, Jan. 18, at 10 a.m. in Room 104 of the Creative Arts & Technology building. Our club grew by 16 over the last year and we had a great turnout for our first meeting of this new year. We meet monthly on the third Saturday of the month and regardless of your skills, you will have a great time. Plus, you have the opportunity to create one-of-a-kind handmade cards throughout the year.
Debbie Warrick designed this cute Valentine card for our January meeting. Tami Fenton, our club vice president, presented the card along with step-by-step assembly instructions. What a fun card it was to make. The paper used as well as the folding technique makes a darling Valentine. This fold is very versatile and can be used for any occasion. Thanks Debbie and Tami for your creativity!
At every club meeting, we have two drawings for gift cards to a local craft store. Our challenge card drawing involves creating a card using a technique of previous month's cards. The card submitted by April Bayne was selected as the winner for this drawing. She made a beautiful Valentine card using the double dutch gate fold technique. Our second drawing is based on our display window theme or color of the month. The January theme was Valentine's card using pink, red, or white colors. Those who submit a card put their name into the drawing. Theresa Rosprim was the lucky winner for January! All of the club members are encouraged to design and make cards for these drawings.
Please stop by our display window in the CATC building to see our creativity! April Bayne and Jean Euker provide our beautiful window displays and we certainly appreciate their hard work. Our February meeting will be Feb. 15. Hope to see you there.
If you have additional club questions, please contact Diana Krug at 940-262-3184.