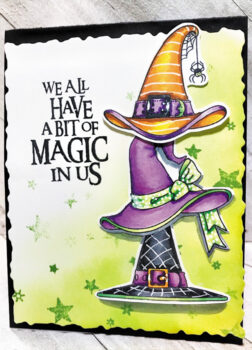 JoAnn Gantos
The Sassy Stampers met on Saturday, Oct. 19, at 10 a.m. in Room 104 of the Creative Arts & Technology Building.
As usual our club made a one of a kind handmade card. This month we tried something new in the presentation of the card. Our project leader created a video of making the card. I thought this was a very creative way to showcase the card assembly. Tami Fenton, vice president of Sassy Stampers, was the Project Lead for this month's darling Halloween card. A great new technique was learned by all – how to make a wheel (that moves) that a witch's hat will sit on. The stack of witch's hats on the card front was so much fun to assemble. It seems that the card was a great hit among the members. Thanks, Tami and all the table teachers, for helping us make this card.
At the beginning of the meeting the gift card drawings were announced. Club members can remake the previous month's card and put their own personal spin on it. It is always so much fun to see how creative other members are. This month's challenge winner was Patsy Collins. Also, every month we are encouraged to make cards for the display window. This month's colors were orange, yellow, and brown (for fall). This month's winner was Carol Cieslik. Congrats, ladies! Each received a gift card for a local craft store.
Our club meets once a month on the third Saturday at 10 a.m., Room 104 of the CATC building. In addition to our meeting we have scheduled days where we can stamp in the room using any stamps, embossing folders, dies etc. that the club has. We just need to bring papers and our basic stamping kit to assemble the cards we make. Our club is also involved in Support Our Troops throughout the year.
In addition to making cards, we love our social time. This is a fun club and regardless of your talent/creativity, you will learn how to make cards on your own too! Dues are $15 a year.
Hope to see you at our next meeting on Nov. 16.