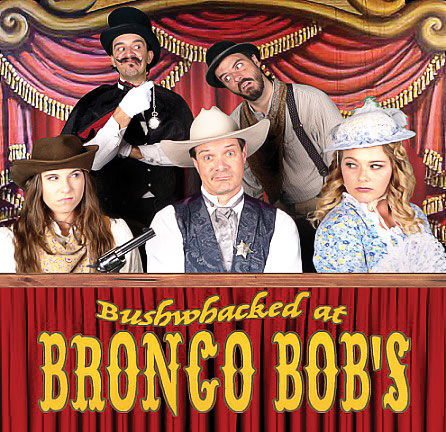 The Robson Ranch Murder Mystery Show will be on Saturday, June 22. Doors open at 5:30 p.m. with a buffet at 6:00 p.m. Showtime is at 7:00 p.m. The cost is $50 per person.
The show must go on, but it can't without the namesake of the world renowned "Bronco Bob's Wild West Extravaganza". Bronco Bob may be gone, but no one is missing him. The unpopular owner of the biggest show in town was much better at pleasing his fans than his employees.
Could one of his own cast members have decided it was time for Bronco to take his final bow? Maybe the diva in distress, Penelope Pureheart, wanted to see her name in lights? Or perhaps the hypnotic Professor Harry A. Pitts decided to make Bronco magically disappear? Surely the love-sick star of the show, Annie Oaktree, didn't get trigger happy? Is it possible Smitty, the stagehand, stable hand, and understudy, is smarter than he seems? Hang on to your popcorn and peanuts, cause you're in for a hilarious Wild West Show like you've never seen before!
Come enjoy a fun show and the price includes a wonderful buffet meal of chicken piccata, Caesar salad, brownies, ice tea and water. If you need gluten free or the vegetarian meal please let the Activities Director know at the time you purchase your ticket. As always there will also be a cash bar!
Seating will be limited to the first 100 guests at tables of ten. Purchase your tickets at the Activities Director's desk 9:00 a.m.-4:00 p.m. Monday-Friday starting Monday, May 20. Cash, checks (make checks payable to RR Denton HOA) or your new Member Card are accepted. The deadline to get your tickets will be Thursday, June 20, if not already sold out. No tickets sold May 27 or June 14.