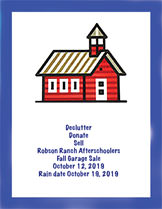 Robson Ranch Afterschoolers spring garage sale was one of the largest and best in North Texas. It was a great time for de-cluttering. Now we are planning for the fall sale on October 12.
Watch for upcoming notices of sale dates for spots and table sales.
Watch for upcoming notices of dates and location for donation pickup of large items.
The garage sale will be on Saturday, October 12, 2019; rain date is Saturday, October 19, 2019 at the Robson Ranch Clubhouse parking lot, 9400 Ed Robson Blvd., Denton, TX.
Three Options
1. Rent a spot and table (limited tables); sell your unwanted items. Watch for dates to purchase spots in the HOA announcements.
2. Donate your used items (for Afterschoolers to sell) to benefit Borman Elementary and LaGrone Advanced Technology Center schools in Denton. Funds earned will go towards grants, scholarships, monetary gifts, culinary treats and teacher appreciation luncheons.
The location drop-offs and dates will be listed in future notices.
3. Come to the garage sale and shop.
Contact Judy Riffel-Karr for pick-up of large items at home 940-262-0160, or on her cell 817-675-1262.
As always, we do not accept electronics or clothes.
For more information, please email Lavelle Carlson at [email protected] or Christine Lovelace at  [email protected]