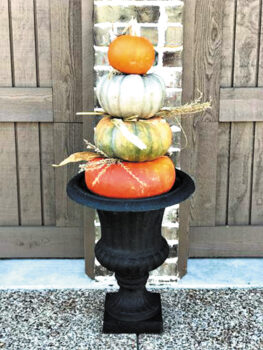 Those of you who've relocated here from other states have likely been asking yourselves, "where in the world is fall?" And now, with frost damage on lawns already, it seems that it's almost over, when we really have more than half of it left. The leaves will drop eventually, probably all at once, following straight-line winds. Halloween can be shorts or parka weather, and it's nothing to see your neighbors outside, in shorts, having Thanksgiving on their patios. This, as native North Texans know, is not an anomaly, but what most don't know is how to tend to your landscape during this uncertain season. We're here to help! Below are our best suggestions for helping lawns and landscapes transition from heat and humidity to upcoming frost and freezing weather:
Fall Fertilization & Pre-emergent:
Your plants have used their stored nutrients to get through a long, rough summer. Replenish them with fertilizer now.
Pre-emergent on the lawn will help prevent winter weeds, keeping your soon-to-be-dormant lawn in shape.
Landscape Updates & Fall Color:
Seasonal annuals are available now and should be planted ASAP to get them rooted. This includes changing out plants in your decorative pots
Fall is a great time to install new trees and shrubs. Updating your existing landscape is a wonderful way to gain instant curb appeal. Research shows that plants will root all winter long, thus having a leg up on summer stress.
Trimming & Mulch:
Trees should be trimmed every 2 years or so. As trees mature, the canopies should be shaped. Branches should be thinned out to take the weight off and let sunlight reach the lawn underneath. This also helps prevent storm damage as well.
It's also a good time to trim your shrubs, preferably before putting out holiday decorations!
Got mulch? Mulch is the best way to keep weeds controlled in your beds while insulating your plants against extreme temperatures. Mulch should be installed at least once a year.
Call Proscapes today at 817-337-3336 to schedule a consultation for any or all of the above services!
What about irrigation?
There are many varying opinions on how to water your lawn and landscape during the winter months. Do you go all winter without a drink of water? Neither should your yard! Stay tuned next month for details. (Can't wait until then? Call Proscapes today and we'll fill you in!)