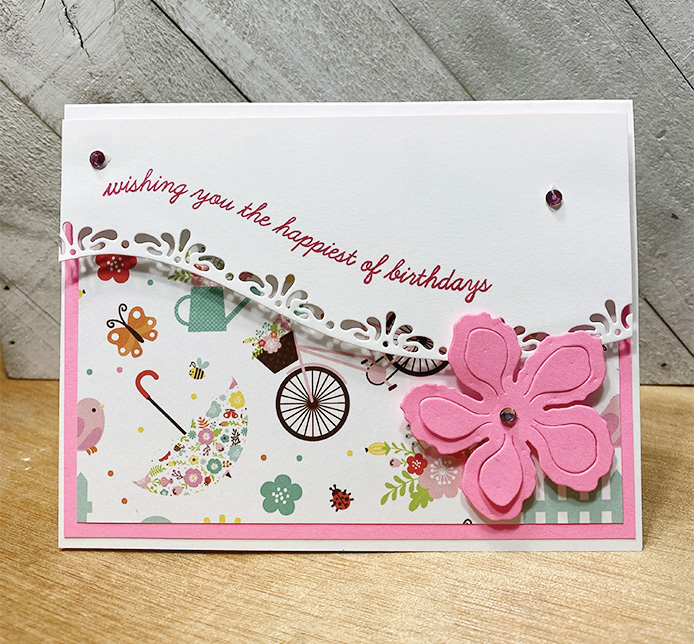 JoAnn Gantos
This card just screams spring! And with the nice rain mid-April, as we have seen, there surely will be May flowers. As the project lead this month, my goal was to find some cute spring-colored papers. And I think I nailed it. With three different papers all containing the same colors, our club members will be making a cute birthday card. Also, using a bright pink or teal background along with the white card base and curved die cut, makes this card pop. I also topped it off with a tiny bit of bling too! Included in the card kit this month are a few extras that club members can use to create a second card of their own design. Dig into those papers you received in your Christmas grab bag and stamp away. Post pictures of your handiwork on our Facebook page. As with all the cards we make here in Sassy Stampers, you can dress the card up many ways.
A huge hug and big thanks to Tami Fenton, our consultant, for her video creations and for making everything look so easy. Thank you, Tami, for keeping us together virtually.
As we inch closer to maybe meeting in person, please keep in mind that our SOT team (Marti Goodrich, Sandy Masoner, and Deb Thomas) always needs donated cards for the troops. Guidelines for making these cards are posted on GroupWorks. You can just drop them off on Marti's front porch when you are ready. Perhaps give her a call so she will be on the lookout for them.
Club members, please know that the club leadership team is working hard on ideas of how we can get together safely. We realize there are members ready to get together as well as those that are not there yet. Please post pictures of any card creations you want to share. Until we can meet in person, stamp on Sassy Stampers!