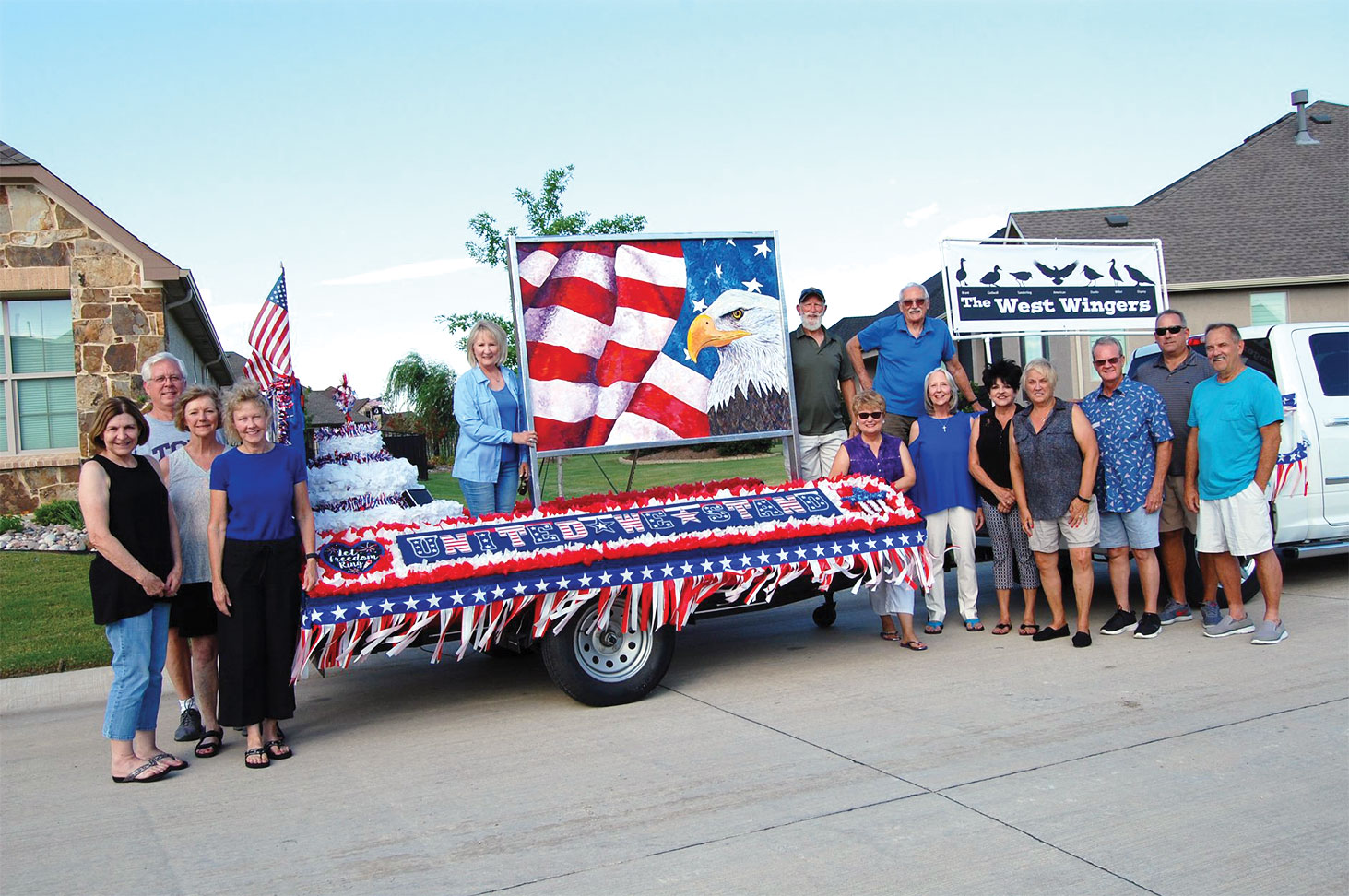 Janet Slusher
To commemorate Independence Day, residents from one of the newest sections, 10-1 (aka The West Wingers), built an unbelievably awesome July 4th float with the theme of the American Eagle.
Veteran float builder and resident Mike Slusher took the float design his wife Janet developed, and with much help from other residents, transformed Eric Smith's utility trailer and some foam board into a patriotic work of art.
Mike painted the basic outline of the American Eagle portrait and resident artist Janelle Lindley added all of the details—the glaring eyes and the three dimensions to the flowing American Flag. The eagle portrait was painted on both sides and set in the middle of the float.
Residents Eric and Donna Smith, Jim and Liz Gardiner, Ed and Linda Pakulniewicz, Bob Pywowarczuk, Dicki Sizemore, Pat Linden, Fred and Paula Gabbard and Mike and Janet Slusher had fun decorating the white cake, adding red and white fluff to the sideboards and covering the rear ramp of the trailer with patriotic decorations including a large American Eagle. The words "United We Stand" were strung across both sideboards.
Walking ahead of the float were Jim Gardiner as Uncle Sam and Dicki Sizemore as the Statue of Liberty.
Fred and Suellen Self decorated their truck and pulled the float. In the back of the truck was the "The West Wingers" sign plus nine darling Bichon Frise dogs handled by Kathy Dial and Liz Katz. Riders in the float were John and Francesca Szafranski, Donna Smith, Donna Walsh, Liz Gardiner and Mike Slusher. Music was provided by Bob Pywowarczuk.
Residents Tom and Susan Doty, Mel and Nancy Gierhard, Vic and Jan Norton, and C.J. and Debbie Halik decorated their golf carts to match the float and followed behind.
Residents of Section 10-1 named their section "The West Wingers" as a tribute to their streets that are named after birds (Osprey, Willet, Brandt, Sanderling, Gadwall, Dunlin and American.) Resident John Heath designed the logo.
Everyone had so much fun building and decorating the float, they are already talking about what to do for next year's parade.