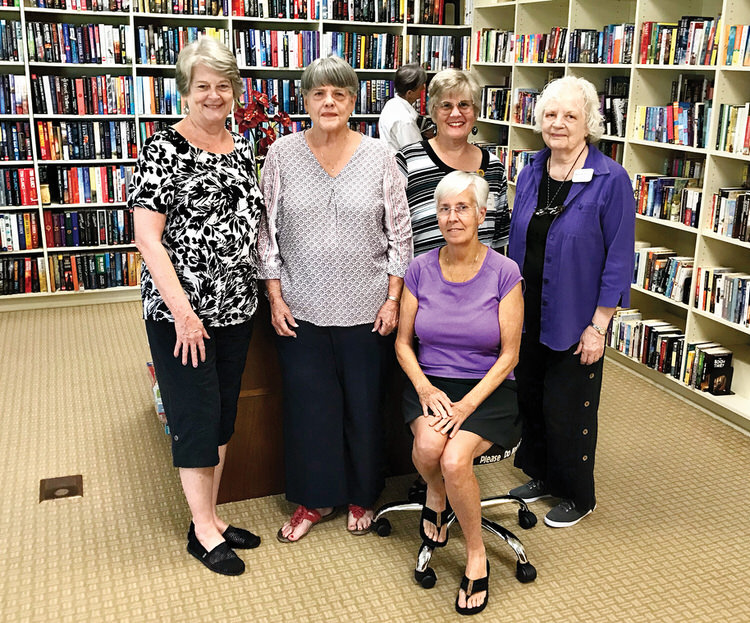 Joan Pursley
The Robson Ranch Library Board would like to thank five loyal resident volunteers who take time each weekend to keep our Library clean and functioning well. Those volunteers are Barbara Roberson, Patti Rea, Marcia Elving, Michele Nuttall, and Gail Kohn. Let's learn a little about these volunteer residents.
Barbara Roberson has always loved books. She grew up in a small farming town in Arkansas which fortunately had a library. That library became her gateway to mystery, adventure, history, geography, etc. Discovering that Robson Ranch had a library was, as she put it, icing on the cake. She enjoys discussing various authors with fellow residents and helps them find new ones. The Robson Library is her happy place!
Patti Rea graduated from Southern Methodist University, married, and had two children. When the youngest child started college, she enrolled in Texas Women's University and received her Master's Degree in Library Science. Over the years she has worked in both public and academic libraries. She now is enjoying retirement and volunteering in the fine Robson Ranch Library.
Marcia Elving was born in San Antonio but has spent most of her life living in the Midwest and Northeast. Her husband, Jim, and she moved to Robson to be near her family. She worked for many years as a computer instructor and as a staff development consultant. She states that if you have a computer or other technical questions just stop by the library on Sunday from noon to 2 p.m. and I will try to help you!
Michele Nuttall moved to Robson Ranch in 2019 from the Nashville area. Why do you ask? I wanted to be near my kids and grandkids. I am enjoying meeting new people while playing pickleball, golf, and bocce. My interest in libraries started way back in college. As my life has progressed, libraries and home improvement stores have become my favorite places offering endless possibilities.
Gail Kohn is a relatively new resident at Robson Ranch moving here from Oregon in 2020. She was born and raised in Michigan and has spent most of her professional career doing IT work. While she has worked in various locations, she has spent the most time in San Francisco. She is a relatively new library volunteer and is enjoying the Robson activities and the pleasant environment.
Once again, we give a special thanks to these wonderful volunteers and we hope to see you soon at the library.