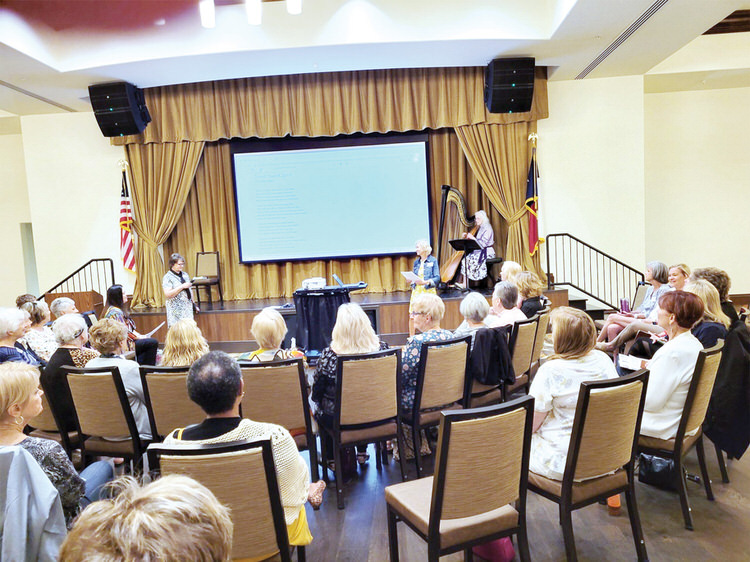 Sherry Hansel
Women Sharing Hope met on April 15 at the clubhouse with 56 ladies in attendance. This month we were blessed to have Patricia Diers as our harpist, while Shirley Waterhouse and Paula Hemingway led us in "Sweet, Sweet Spirit," "Victory in Jesus," and "Alleluia." Our topic this month was "When it seems as though God is not answering prayers." Linda Smith shared biblical stories of how God answers prayers and trusting Him. A skit was performed by Cindy Haugen and Paula and Mark Hemingway showing how we lose sight of the real meaning of Easter by focusing on having the perfect Easter for our family: the perfect meal, Easter eggs, Easter basket, Easter outfit, perfectly clean house; while we should be focusing on Christ and His death and resurrection for us. Laura Jones, our guest speaker, shared her story about a tragedy in her family that ultimately led to deeper faith and trust in God. Some members of the audience also shared how God, ultimately, had been there for them even when they couldn't see Him at the time.
We also discussed support for widows, our Care team praying for our members' specific requests throughout the month, helping the day laborers on Ft. Worth Drive as our project for 2022. After the meeting, many ladies gathered for lunch in the boardroom at the Grill.
Our group is open to all women who want a deeper bond with Christ and each other, while glorifying God with our words and actions as we are led by the Holy Spirit. Please join us next month. Our topic will be "Are You a Basement or an Attic Dweller Christian?" We will meet at the clubhouse, Lone Star Room, on May 27 at 10:30 a.m. Our normal meetings are on the third Friday of each month.