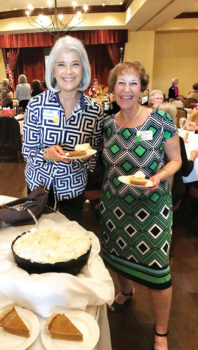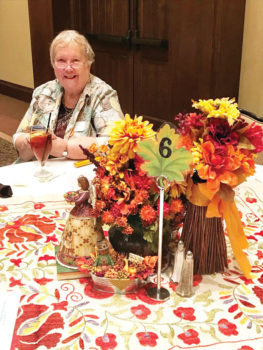 Gayle Coe
The Women's Club November luncheon was held Monday, November 6. Members and guests located their seats in anticipation of the Donna Trammel production of "Sunbows & Rainshine – A Celebration of Change".
Greeters escorted new members to the "New Members" tables and Sharon Foy (President) welcomed the first-time attendees and guests. Sharon also announced the club's membership has reached 526 members. Following the announcement, Sharon recognized the November birthdays and shared "fun facts" about people born in November. Sharon also provided the Treasurer's report and Service in donation totals.
Joyce Frey kicked off the November program by introducing the multi-talented members of the Trammell Group. The performance included parodies of familiar tunes including, "Driving Down I-35, Staying Alive" harmonized to the famous Bee-Gee's song, "Staying Alive". The musical program had everyone singing and clapping and concluded with a standing ovation.
Sharon highlighted that Talbot's (Highland Village) and the Women's Club partnered to offer the membership a special shopping day, November 14, all day! Talbot's offered a discount off entire purchases that day and 10% of the pre-tax sales from that day go to Our Daily Bread and Refuge for Women.
She also announced, that the Holiday Market cleared $7,370. The proceeds, plus the proceeds from the Holiday Home Tour, will be donated to the designated charities, Our Daily Bread and Refuge for Women at the January luncheon.
The Holiday Home Tour was a resounding success and the Holiday Home Tour After Party was the perfect way to celebrate with everyone. Thank you to all the participating homeowners, Rebecca and Russell Bafford, Nancy Garre, Paula and Fred Monroe, Rita and Brett Paxton, Shirley and Bill Revering and Deb and Bill Siefkin. Your homes were beautiful. Thank you to all of the volunteers for helping make this wonderful event a great success!
The Robson Ranch Women's Club looks forward to a great 2018 and wishes you the very best in the new year! See you at the January luncheon.
HAPPY HOLIDAYS FROM THE 2017 BOARD MEMBERS!