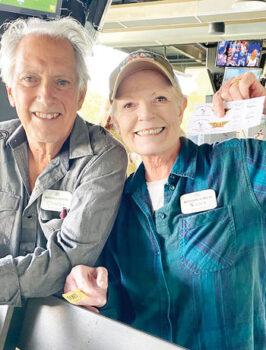 Susan Parker
The Baby Boomers took the show on the road this month. They all had a swinging good time at Big Shots Golf. Big Shots is located just south of the Tanger Outlet Mall.
The venue offered food and beverages, and everyone had the opportunity to take a few swings! If golf was not your thing, cornhole was available, a miniature golf course, or just putting. Everyone enjoyed the evening, and we are planning to return sometime this fall.
The Robson Ranch Classic Rock Club donated two tickets to the upcoming concert for a raffle. The winners were Nancy Kilkenny and Charles Schunior. Congratulations!
This month the Boomers will be returning to the Grill on Monday, May 16, from 5 to 8 p.m. The menu will be burgers and chips. Watch your email for some upcoming events we are planning.
If you are interested in joining the Baby Boomers, please contact Carol Jankowski at [email protected] or Susan Parker at [email protected] There are no dues, and our mission is to provide a social venue for the young at heart.