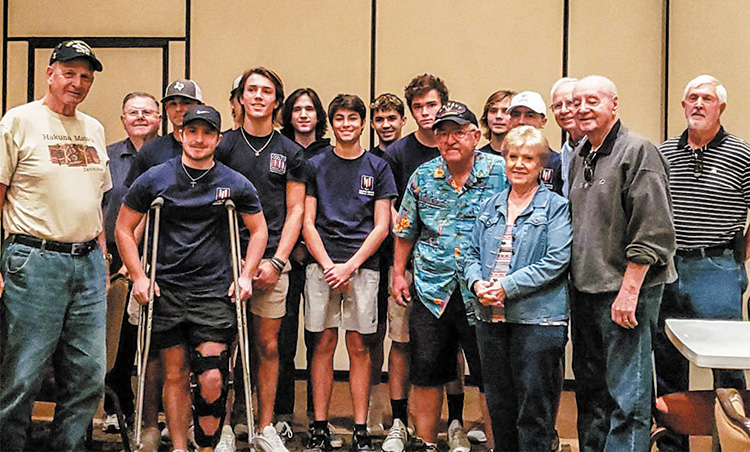 Lynne Moore
This past October has been a very busy and productive one for Support Our Troops Denton. We have shipped a number of boxes of goodies to our deployed military, as well as sent out handmade cards from the Sassy Stampers to those relatives of Robson Ranch residents who are in the military. Our meeting this month featured our WGA giving us a generous check of $550 from their Hoofs and Heels tournament. Thanks to all our super lady golfers for their generosity. October also saw the Egg-Fest fundraiser started by resident Shirley Johnson. Those who attend purchase tickets and show up at Shirley's to enjoy a dinner of wonderful homemade barbecued meats, yummy baked potatoes and other sides, and super desserts. The money from this event is donated to Patriot Paws, a special charity that SOT has supported for many years. This charity trains service dogs for our returning veterans in need which helps them in so many ways.
This month also saw the continuing partnership of our veterans with the Argyle Young Men's Service League. For those of you not in the know, YMSL is made up of high school young men and their moms. Many communities have this organization, and we are so glad that SOT and Argyle have become partners. The moms and young men come every month to write letters to the troops we support, as well as to listen to Robson veterans who talk to them about their service to our country. This month's speaker was Air Force veteran Mike Lock, who really did a wonderful job presenting his service experiences.
SOT also prepared for the Veterans Day Silent Auction which took place at the Clubhouse on Nov. 11. Lots of items came in to be displayed and sold at the silent auction with all money raised going to helping those military that we support, as well as to several veterans charities. We hope you all enjoyed the auction and found lots of things to purchase. SOT meetings are held monthly on the second Monday at 1 p.m. in the Clubhouse. You do not have to be a veteran to belong, so we hope you will come for the next meeting.