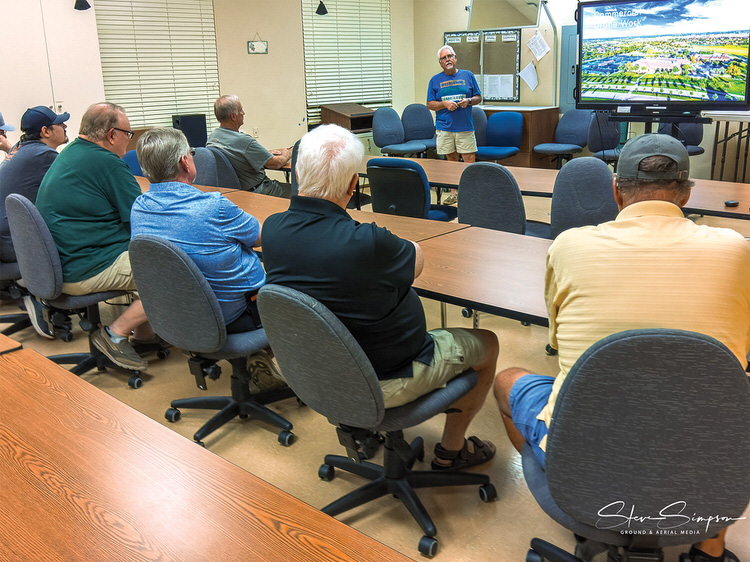 Steve Simpson, Robson Ranch Club Officer
The Drone Club meets the fourth Monday night of each month, from 7 to 8 p.m., in Room 104 at the Creative Arts Center. We have no dues, and attendance is open for anyone who is interested in drones, regardless of whether they own one.
Our Oct. 25 meeting was hosted by club member Randy Hatcher. Randy's presentation topic was "Drone Recreational Flying from the Viewpoint of a Commercial Part 107 Pilot." Randy offered an in-depth presentation on all aspects of flying a drone for both professional and personal use, which included the following meeting agenda: "How I Started Flying a Drone," "Why I Got My FAA Part 107a Certification," "Commercial Images Captured for RR HOA Denton," "Advantages of an FAA Certified Drone Pilot," "My Best Drone Images," and "My Key Drone Photography Tips."
There was much open dialog and interactive discussion during the meeting, including questions and answers regarding the following: "What is the best entry-level drone to get started with?" "Who has the best pricing on an entry-level drone?" "What is DJI drone's GPS fencing all about?" "Can we have a future meeting about flying a drone safely at RR?" "Who can be my mentor for the DJI Mini 2 I just purchased?" "What is the best way for me to learn how to fly my drone?" and "Can we get more info about how to prepare for the FAA Part 107 Certification Test?"
There will be no December meeting, so our next general meeting session is scheduled for Jan. 24, 2022, and we hope to have an in-depth presentation on "How to Best Prepare for the FAA Part 107a Certification Test."
We hope to see everyone then.