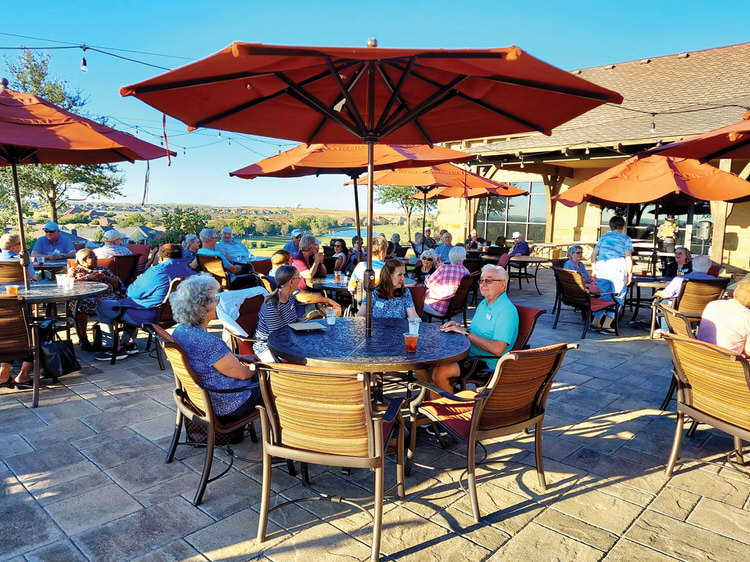 Cynthia Drury
The Wildhorse Grill patio was the gathering site of the Oct. 9 Burger Bash. The evening weather was warm, but not too hot, with a slight breeze and spectacular views. It was a fitting backdrop for a time of fellowship and reconnecting for the members and guests of the Fellowship At The Ranch Church. It was heartwarming to see people talking, sharing, and catching up. In addition to the wonderful fellowship, the attendees had the opportunity to build a delicious hamburger with all the fixings and, of course, delicious side accompaniments. The meal was completed with a fall-colored cupcake dessert.
The evening culminated with our guest speaker Susan Frank from Hearts for Homes. Mrs. Frank shared how she started the organization 15 years ago. The organization provides home repair for low-income seniors. Hearts for Homes is one of the local missions supported by the Fellowship At The Ranch Church.
As the evening drew to a close, we were treated to a gorgeous sunset—the perfect ending to a wonderful event.
Fellowship At The Ranch Church meets every Sunday at the Robson Ranch clubhouse. The Coffee Meet & Greet starts at 10 a.m., followed by the Worship Service at 10:30 a.m. For more information about Fellowship At The Ranch Church, please visit our website www.fellowshipattheranchchurch.com.
One of the friendliest churches, right in your own backyard.