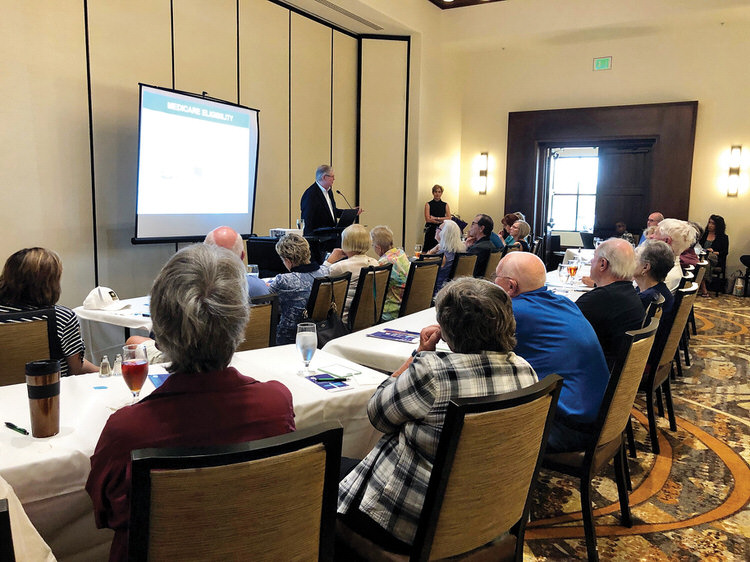 Claudia J. Caporale
Excitement and enthusiasm continue throughout the Ranch! Most committees and clubs are making holiday preparations—winding down their usual events and replacing them with special events. The Golf Course Tour on the evening of Oct. 12 was another big success, with residents forming a line from the clubhouse to journey through the four, nine-hole golf courses offering spectacular views.
The Robson Ranch Olympics held on Sept. 25 got rave reviews on survey ballots. We thank all who participated and look forward to next year's event.
Our Medicare Presentation held on Oct. 7, presented by Teresa and Blake Prewit and their associates Louis and Lizette Kowalski, was attended by more than 50 residents—all taking notes and listening attentively to the many options available. If you didn't attend or if you have questions, you may contact Teresa Prewit at her office at 210-301-5423, Ext. 703.
Coming up on Nov. 15 at 2 p.m., Dr. Juanee Surprise, DC, NMD, IMD DCB, will present "Healthy Holiday Foods." Dr. Surprise's goal is to help people by sharing health, nutrition, and pain management information. This will be the last presentation of this year. Next year's presentations will be listed on our website, rrlwc.com, as they're scheduled.
Get ready for the "Turkey Trot" on Thanksgiving Day, Nov. 25. Gil Clifton will lead the three-mile "Turkey Trot" at 9 a.m. along with our "Turkey Mascot." There will be cookies, water, and bandanas for all attendees.
Our Reflective Sharing Group for widows, widowers, and those needing comfort will continue its meetings during the holiday months. It's held on the first Thursday of each month at 1 p.m., at the clubhouse. We are currently discussing the book Grieving with Hope.
Our Friday Farmers Market continues to be a success! Sapling Farms will now post prices for all their vegetables, per residents' request. New vendors will be joining us soon.
This is a busy time of year, and we sometimes have a tendency to "overexert ourselves," so take advantage of Wednesday Blood Pressure Check at 9 a.m. at the clubhouse.
Stay Healthy! And keep checking our website rrlwc.com for updates.