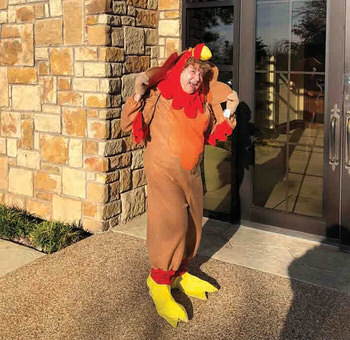 Claudia J. Caporale
Happy New Year, all! Let's go forth with more gratitude, patience, forgiveness, and love and leave behind the disappointments. Even our weather is looking good!
December was an active and festive month. Robson Ranch was enhanced and brightened by colorful lights, lawn ornaments, decorated Christmas trees, and so many activities in the clubhouse, which was beautifully decorated by caring and dedicated volunteers. Festive parties kept most everyone in the Christmas spirit, including a Living Well Committee meeting/house party hosted by the chair of the committee, Joyce Ambre. Thank you, Joyce and husband, for sharing your home and goodies with us. Even Rhett showed up just to make sure we were really "meeting."
Most of our temperatures have been mild, except Thanksgiving morning! One hundred fifty dedicated, bundled-up residents, family members, friends, and dogs braved the cold and wind to attend the Turkey Trot Walk led by Gil. Thanks to Fred, who played the Turkey Trot music and gave out Thanksgiving scarves, and to our Turkey Trot mascot Geraldine Gawle. Thanks to all who came out and enjoyed the event. We hope everyone had a blessed and grateful Thanksgiving.
Our newest committee member Scott has been busy lining up informative presentations for the new year. Please view our up-to-date website rrlwc.com for upcoming presentations and activities. Be sure to attend our January presentation by Wally Saqui on Jan. 18 at 3 p.m. The topic is "Maintaining Functional Movement in Our Senior Years." A great start to our New Year's resolutions.
Our Friday market vendors have also braved some unpleasant weather conditions, because they're dedicated to serving the residents of Robson Ranch—always with a smile. We hope you continue to take advantage of buying their wonderful, fresh products every Friday from 8 to 11 a.m.
Let's make this the best year!