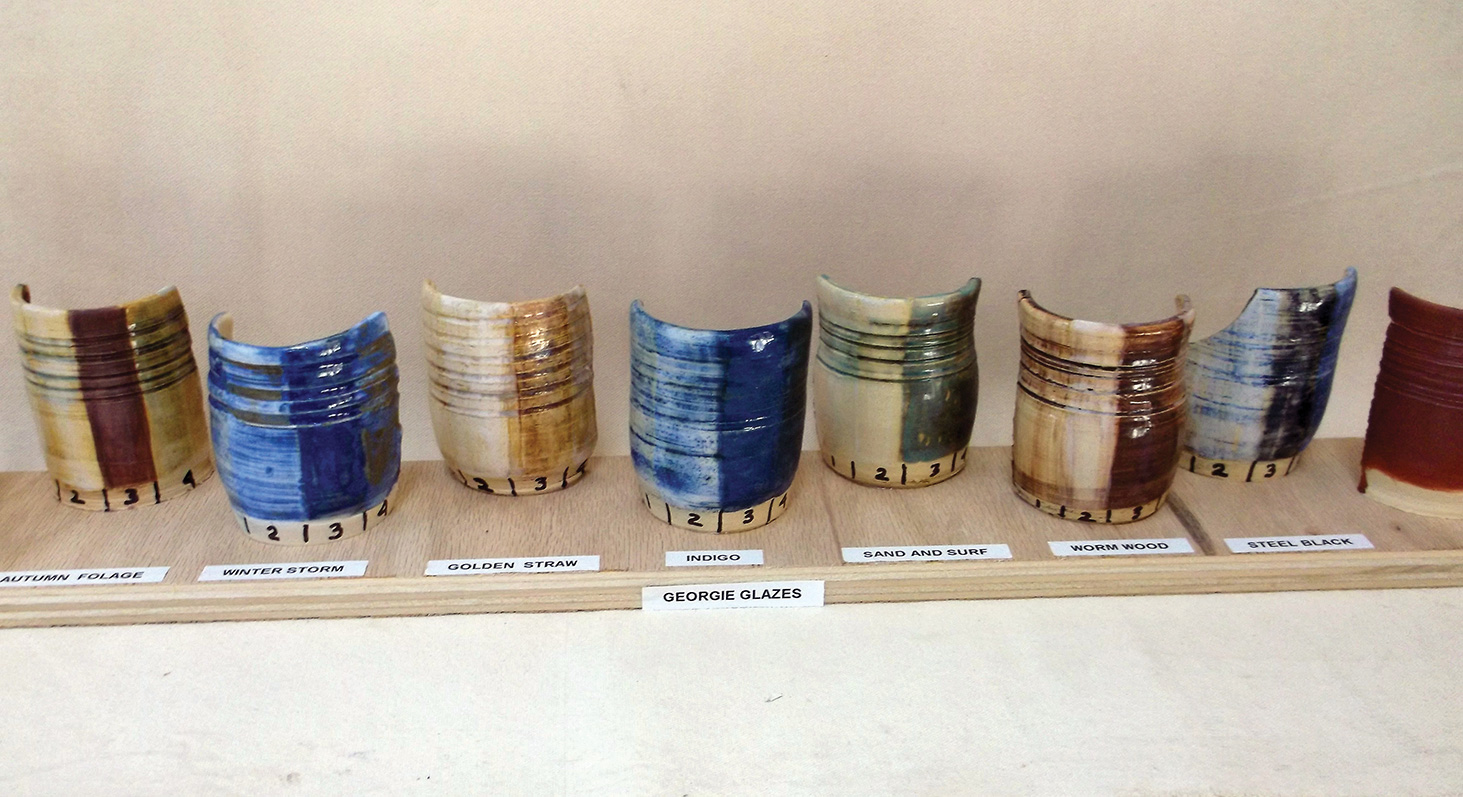 Pat Bender
Every potter knows a good glaze can make any vessel beautiful. The Pottery Studio now has a new manufacturer to use for glazing. Georgies Interactive Pigments are an interesting way to show texture on the pottery piece and to keep the natural lines of the vessel.
The eight interactive pigment colors are golden straw, autumn foliage, sand and surf, winter storm, tree bark, steel black, wormwood, and indigo. The rich warm earth tones create different results after applying one coat and then wiping off. The color of pigments may vary depending on how much you wipe off. You will get new depths of texture when the oxide fills the raised patterns and cut out designs on the vessel. Custom effects are then achieved by adding a clear or eggshell wash on top.
Test tiles showing all eight colors to help illustrate the way to apply the pigments were prepared for the studio by President Charlotte McGovern and Vice President Jackie Graham. The examples of each pigment first shows the pigment applied in solid with no glaze. The next example shows the same pigment with the color applied and then wiped off. The third sample shows the solid color wiped off, but with the super clear added. The last test example is with color wiped off and has zinc free clear. The test tiles mounted to a board show each pigment color side by side to easily compare finishes of the four options.
Other ways to use the pigment are to use them under a glaze for solid color coverage or design work. A natural color palette can be used with sponge stamps or painterly birds to use over raw glazes for a majolica technique. The flexibility of using the pigments on greenware and options of firing the glazes up to different cone temperatures opens up many creative results.
The studio will be using these pigments in August on balloon bowls. Each potter will find out no matter how they use the pigments they will get different colors and designs that have no limits in creativity!