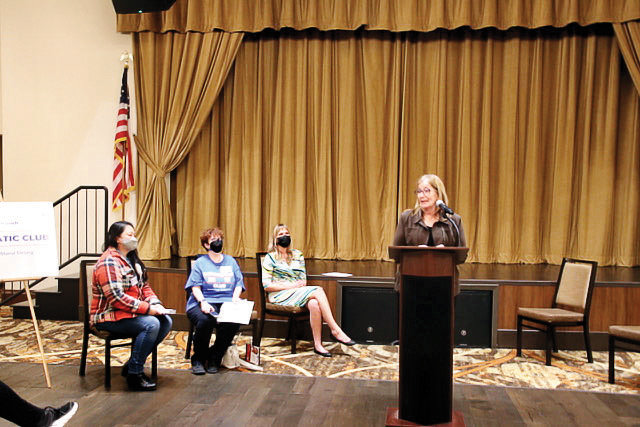 The Robson Ranch Democratic Club met on Jan. 27. Members enjoyed getting back together again in person for socialization and to meet and learn from candidates.
The meeting began with the Pledge, followed by a moment of silence in remembrance of the Holocaust. Co-president Jane Scholz then asked Lisa Olson, vice president, to discuss our ongoing membership drive and to announce the Beto swag bag winner. Following these brief comments, Cheri Kennedy introduced our guest speakers:
* Tracy Fisher, running for State Board of Education, District 14;
* Francine Ly, running for State Senate, District 12; and
* Amber Briggle running for Place 6 on the Denton City Council.
Each speaker gave their political, civic, and educational backgrounds that will enhance and improve the political system. They were excellent listeners when it came to responding to questions and concerns of the membership in several areas, particularly the continuing improvement of roads and cleanliness in Denton, as well as improving the educational system in Texas.
Tracy Fisher, candidate for a seat on the State Board of Education, stated that her priorities will be to rethink our education standards and testing, retain and elevate our professional educators, and reinvest our public education dollars in the classroom. Eighty percent of Texans, across party lines, support their local neighborhood public schools. She has been involved in education at the local level for many years. Her website is tracyfisher4texas.com.
Amber Briggle, candidate for Denton City Council Place 6, exhibited superior knowledge of the workings within the city of Denton. As a small business owner and a former vice chair of the planning and zoning commission, she has seen the challenges that Denton has faced. She recognizes the strengths that will help shape Denton's future positively. Her goals are to ensure that the council listens to the people, not just the developers. Amber wants to ensure that Denton has affordable housing and transportation options that work for all. See www.brigglefordenton.com.
Francine Ly, candidate for the State Senate District 12, provided her extensive experience that will help her be an effective legislator. She has served as a Precinct Chair and an Election Judge, as well as a representative of the AAPI community in the Texas Democratic Party. She has hosted many events working to get others elected. Her greatest asset has been in working with the party to get more voters registered. See www.teamflyforsenate.com.
We also had the pleasure of having the dynamic speaker Delia Parker Mims, chair of the Denton County Democratic Party, speak on the Fight Back Program. She stressed the importance of voting in the primary. She also stressed getting involved through Fight Back! Register 50 to help people register to vote. If you are interested in helping people to register, please contact Cheri Kennedy or Margo Ways at [email protected]
Learn more about Fight Back! Register 50 and Robson Ranch Democratic Club at www.facebook.com/groups/rrdemocraticclub.public.
We welcome new members. A club membership application is also on the page.