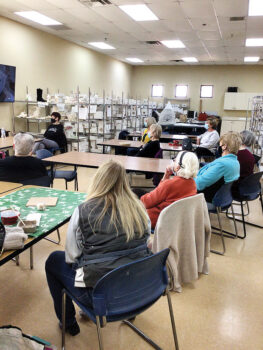 Karen Ellsworth
The Happy Potters of Robson Ranch started 2021 with a bang! One of the goals of our club is to continue to grow and learn, which is exactly what we did in mid-January. Following social distancing guidelines and safety protocols (masks and hand washing), about 12 members showed up to watch a ClayShares video on making a deviled egg tray. As always, the instructor was informative, funny, and enjoyable. After the 60+ minute lesson, we all were inspired to get our hands in the clay and start creating.
Our potters have been working on a variety of projects—large patio pots, bowls, mugs, plates, trays, platters, and wall hangings. As Christmas gifts, many of us received new pottery tools, books, and storage solutions. We are ready to put them to use!
We will be having a new student class in February or March. Seven people have already signed up. If you are interested in learning a fun new artistic skill, please stop by the pottery studio in the Creative Arts Center. There is a black notebook on the front counter with a place for you to sign up. (If no one is in the studio and it is locked, please call Jan Marx or Charlotte McGovern. Their numbers are posted on the wall by the door.)
The Happy Potters also have items for sale. Each original and unique creation makes a great gift or a fantastic addition to your home decor. The items are priced from $1 to $35+. The pottery sells quickly, and new items are placed in the window weekly. Please consider shopping with us if you need that last minute hostess gift, birthday present, or wedding gift! Any club member will be happy to help you.