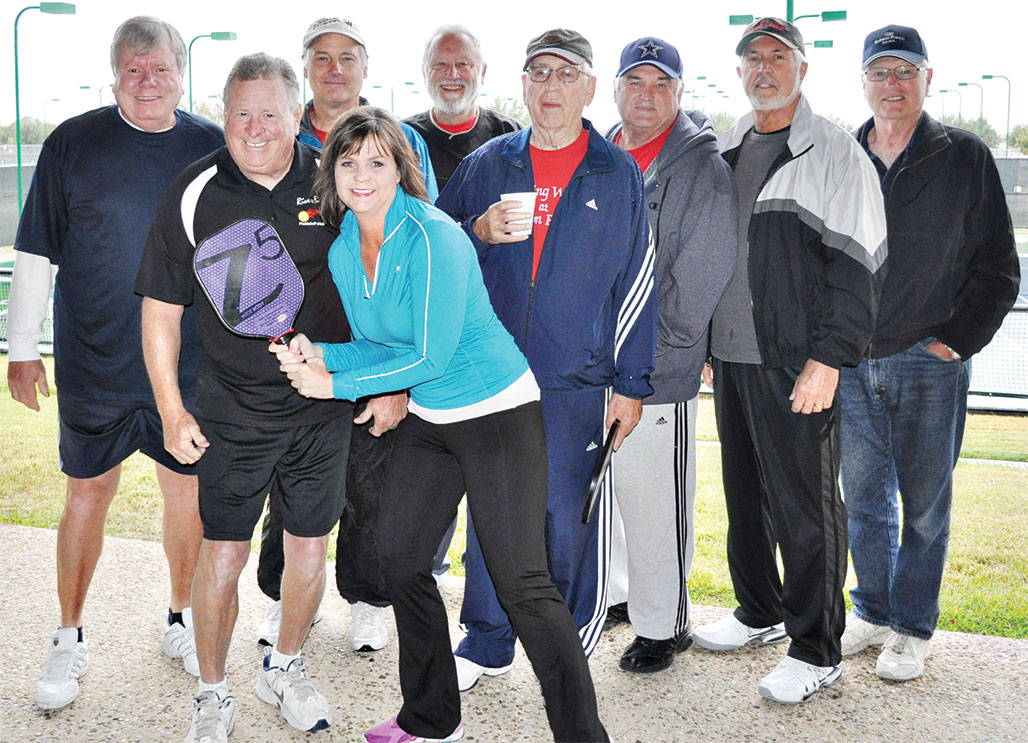 Carol Hilton
Live from Robson Ranch, it's "Good Morning Texas"! On November 5, Paige McCoy Smith from WFAA, Channel 8, and her crew interviewed our own Bob Gaylord and Jennifer Hill while our club members braved the rain and played an abbreviated version of pickleball in the background. The weather did not cooperate, but viewers got an idea of what the game is all about and could see what high quality outdoor courts we have here at The Ranch.
Where could you find over 700 pickleball players playing in one place? From November 2 through 9, The USA Pickleball Association hosted its Nationals VI tournament in Buckeye, AZ. Participation in the "Nats" set a record, the largest number of pickleball players in tournament history, which emphasizes the popularity of this fun sport! Our Robson Ranch Denton tournament team traveled to Buckeye and was successful in many ways! Ford Roberson, Warren Williamson, Bob and Irene Romagosa and Sherril Kerr all won more matches than they lost, and that's something to be proud of! They competed in age division brackets, which meant any level 3.5-5.0 could play.
Finishes:
Age 60 Men's Doubles: Warren and Ford, seventh out of 36 teams; Bob R. and Bill Mason 11th of 36 teams.
Age 60 Women's Doubles: Irene and Vicki Noakes, seventh out of 16 teams.
Age 65 Women's Doubles: Sherril and Jan Brannan, seventh out of 15 teams.
Age 60 Mixed Doubles: Ford and Sherril, seventh out of 34 teams.
Age 65 Men's Singles: Warren finished fifth out of 16 teams.
Age 65 Women's Singles: Sherril won Bronze! Congratulations!
The level of play here at Robson Ranch is very high, and the players want to thank all the Pickleball Club members who helped them practice in preparation for the National tournament and for all your encouragement! For more information on the USAPA and the Nationals, visit their official website at usapa.org.
It's the Pickle Ball Ya'll 2015! Calling all you cowboy and cowgirl "wannabes"! January 30 is the date and is fast approaching. DJ Bill Cody will again keep our boots scootin' for a fabulous evening of fun and games and BBQ, Robson Ranch-style. Keep an eye on the Pickle Jar for more details!
Want to join in on the fun? Membership information is available in the gym. Contact information is also available on the Robson Ranch Denton Pickleball Club website: www.rrdpc.com.
We play pickleball with relish!