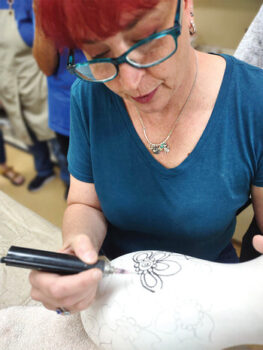 Lynne Kelsey
Two years ago, members of the Robson Ranch Happy Potters attending the Texas Clay Festival in Gruene were captivated by the work of Renee Lindquist of League City, who was demonstrating the use of a tool called an air pen. An invitation to present a workshop at the Ranch was extended and accepted, travel plans were made, and anticipation was high.
Then, of course, COVID-19 hit.
That long-delayed workshop finally happened on April 18, when Renee made the long trek north for a full day with a standing-room-only crowd in our studio. In the morning session, she expertly sketched a floral pattern on a piece of unglazed pottery and showed an easy way to transfer a design using tissue paper and a fine-line marker—a much appreciated tip! She then went to work with the air pen, a tool somewhat akin to an air brush. Instead of spraying, the tool, powered by a small compressor, distributes glaze through a narrow tip. This allows the artist to draw very fine lines or to fill in areas easily, as the flow control is right at her fingertip. Several of our members had purchased the air pens and generously shared them with those who wanted to give the device a try.
After lunch, Renee kept the group guessing as she hand-built a piece. Would it be a mug? A vase? As it slowly took shape under her practiced hands, the final product was revealed to be a footed pot with a soft, organic shape, adorned with "ribbon" handles that curved back upon themselves. The rest of the afternoon was spent experimenting with ribbon handle building. It was indeed a very full, very creative day, and we are looking forward to more workshops by visiting clay artists in the upcoming months. Busy studio … happy potters!