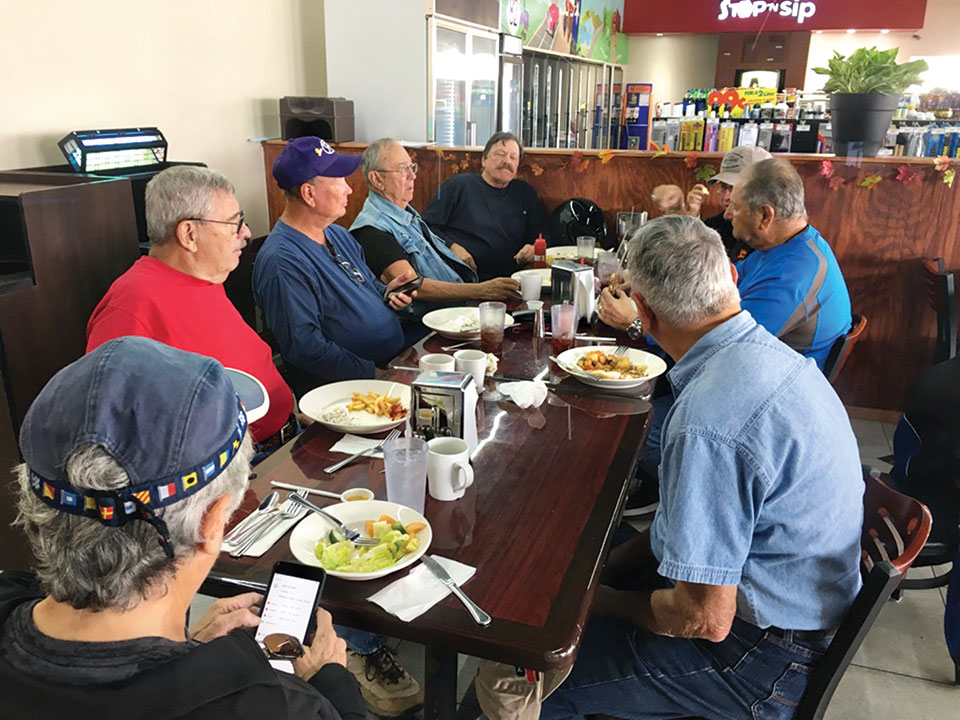 Stan Brein
How can you go wrong eating at a place called Lucky's Café? Well you can't! This was the suggested lunch ride for September. It is a truck stop in Whitesboro, Texas, but don't let that fool you (ala Chef Point Café in Watauga). Hey, as long as we are filling our tanks we might as well eat.
Ted Soprenuk, Elaine and Ed Barnett, Mary and LT Bryant, John Nagy, Jim Sico, Joseph Ace and Stan Brein set out from the ranch at 10:30 a.m. on September 12. We used our favorite run up FM 156 to Sanger, heading eastbound on FM 455 on the scenic south side of Lake Ray Roberts. From there it was a comfortable ride north on US 377 to US 82 in Whitesboro. Lucky's is just east on 82. The place is locally owned, and the staff is friendly and helpful. Everyone enjoyed, and we all agreed that it was worth a return trip. The trip back meandered down 377, westbound on 922 across I35 to Era. From there it was 51 to 455 to 156 and home. All in all a good 150 mile outing.
The club officers have changed the name of the group to the Robson Ranch Motorcycle Club to provide clarity to those looking for club information. Planning has definitely ramped up with several meal trips, day trips, overnight excursions and longer trips being planned. We have implemented modest dues ($15 per family) to ensure we have an indication of those who are actively interested in participating in rides and events.
L.T. and Mary Bryant completed an adventurous motorcycle trip experienced by very few people. The Bryants were joined by Ken and Connie Cline for the first half of the trip, which began with a ride to the West coast and then up the scenic Pacific Coast Highway to Oregon. After visiting Las Vegas they continued their tour of National Parks. The two couples parted ways in Colorado, with the Bryants spending the next couple of weeks crossing the central U.S. They crossed into Canada for 10 days in the Atlantic provinces of New Brunswick, Prince Edward Island and Nova Scotia. Altogether they covered 13,700 miles. See next month's Pioneer Press for a detailed description and travelogue.
Once again the Motorcycle Club will be participating in the Denton County Coats for Kids Ride (http://www.coatsforkidsride.com/the-ride.html) on Sunday, November 26. Children in the school districts of Denton County will be able to receive a new coat thanks to the generosity of local motorcyclists and their supporters. Last year, after a late start, the Motorcycle Club was able to contribute over 50 coats. Please consider purchasing a coat in your upcoming shopping excursions. For additional information or to drop off a coat, contact Stan Brein ([email protected]), Mike Conley ([email protected]) or Scott Baker ([email protected]).
Upcoming events include a dinner ride to Gogo Gumbo on September 28 and a planning meeting for the October Arkansas trip on September 29. The October dinner ride will be on October 26.
See you on the road!
Beware of cagers and keep the rubber side down!