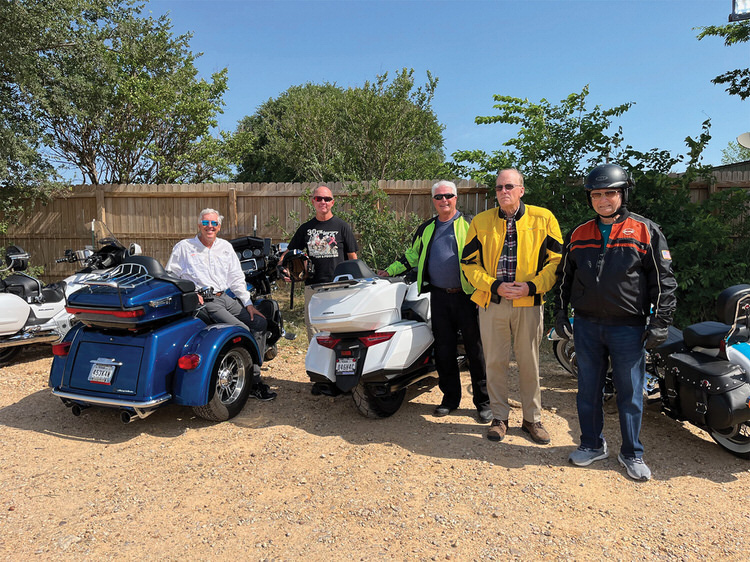 Stan Brein
In keeping with the motorcycle riding tradition of "Live to Ride. Ride to Eat," a few folks motored to Mel's Place on May 18. Steve Bouse stepped up as ride captain and led the group to 8537 Farm to Market Road 730 N., in Boyd. Rosie Bouse, Mike Conley, Keith Breiner, Steve Williams, Bill Dodge, Jim Sico, and Rob Luciano joined the ride on a nice warm and sunny day.
Mel's is a small place, family owned and operated, and pretty eclectic on the inside. The gravel parking lot (careful) lets you know from the get-go that it is a downhome place. They boast of the "Best breakfast available in Wise or Parker County; and don't forget Catfish Fridays." American-raised catfish is the only kind they serve.
Online reviews have been favorable. One reviewer said, "Looks like a tin shed from the road, but from the amount of cars in the parking lot, you can tell it's popular. It's cute, it's rustic, and everyone is friendly. Their biscuits are BIG and real homemade. They have a great gravy with just the right amount of pepper. Highly recommend if you want a filling breakfast for a decent price." Their daily lunch specials also look good. Our RRMC crew gives Mel's the thumbs up!
Next month is the Summer Mountain Ride (June 15-19) to New Mexico and Colorado (Reggie Rother, ride captain). This will include the St. James Hotel and Santa Fe (New Mexico) and Pagosa Springs, Durango, Silverton, and Ouray (Colorado), including the Durango Cascade Express Train.
The club continues to grow as more folks move into the community. Here's a hearty welcome to our new club members: Robert and Katherine Luciano (HD Road King), Brent and Mary Pelletier (HD Street Glide), and John Steen (HD trike). We look forward to riding with you and having you captain us to your favorite places.
Do you have a favorite place to eat in the region? We are always looking for new culinary adventures and places to ride, so let us know about your gem.
See you on the road!
Beware of cagers, and keep the rubber side down.