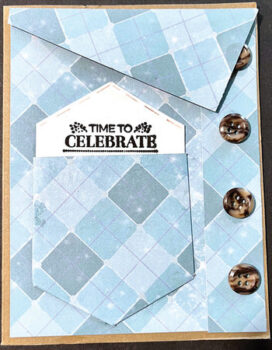 Cherlyn Conway
On May 21, about 45 Sassy Stampers and a couple guests gathered to dress up Father's Day with a button-down shirt card designed by Denise Switzer. This card was complete with collar, pocket, and a handkerchief to represent the well-dressed men of Robson Ranch. Several of the table teachers brought a few different variations of the shirt card, as well as turned it into a blouse card with a feminine flair. It would appear we have another card that can be made for a variety of occasions.
The color theme for the June window in the CATC was black and white cards. Several stampers brought cards for the window, which put them in a drawing for a Hobby Lobby gift card. The lucky winners this month were Denise Switzer and Mickey Grames. Our color theme for our June meeting will be cream and coral, so get busy, Stampers, and bring some cards to the June meeting.
Stampers Jean Euker and April Bayne make amazing cards, and they also do an amazing job every month, changing our window in the CATC. Stop by and admire these ladies' design skills!
Stampers recently had a sale day where Stampers were able to bring up extra supplies to sell or trade, as well as purchase a huge array of supplies that were donated to the club by the family of a past member. What a Stamper paradise to buy that item you have been longing for. All the proceeds from donated items to the club were given to the St. Jude Foundation at the family's request.
It was announced at our meeting that Tami Fenton, one of our past presidents who moved away, is coming back to the Ranch to teach us some coloring techniques for our July meeting. Tami always made the coloring and shading techniques look so easy. We are all so excited to see her again and feel blessed that she is willing to travel from Weatherford to share her expertise with us.
The next meeting for Sassy Stampers will be on Saturday, June 18, at 10 a.m., in Room 104 of the CATC building. We are going back to one session, due to the manpower needed to do two sessions. Make sure to RSVP when the GroupWorks notice comes out so you can make sure to get into the class!
If you have had an interest in this craft and the fellowship that goes along with being a Stamper, we invite you to join us as a guest. The cost is $3, and you would need to RSVP to Lisa. The Stampers' annual dues are $15, which includes all the supplies and guidance to make 10 cards, plus the opportunity to attend the monthly Stampathon, SOT card making days, and more.
You may contact Lisa Olson at 817-903-9894 or [email protected] if you want to RSVP, have any questions, or would like more information about Sassy Stampers.