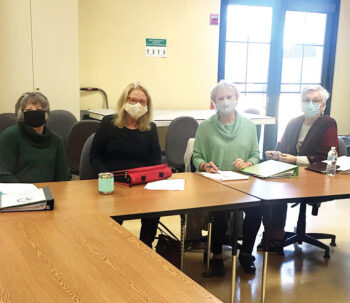 Lea Ann Kirby
The first meeting of the Robson Ranch Women's Golf Association (RRWGA) was held on Feb. 22. The executive board and a member of each committee was present. There were a lot of new and upcoming events announced at the meeting, and also the fact that our Tuesday Playdays start on March 2. Every Tuesday there will be different games played, with a team game being played on the first Tuesday of each month. If you are new to Robson Ranch and want to play an established 18-hole round of golf every week on Tuesday, contact the RRWGA or look-up information on our website at [email protected] Our Pro Shop staff will gladly give you names to contact for RRWGA information.
Polar Bear League (January and February Organized Tuesday Play)
Our Polar Bear League started in January with 39 members. This league played almost every week (weather permitting) and ended on the last Tuesday in February. A big "hats off" to those ladies that braved the weather and played the Polar Bear League, especially since tee times were in the mornings when the temperatures were still pretty chilly!
RRWGA Members to the Rescue!
Two new RRWGA members, Kelly Kay and Kerri Billingsley, were out walking and checking on the neighborhood during one of the coldest, snowiest days we had in February and noticed water running from a house. They knocked on the door and got the homeowner to open his garage where there was a lot of leaking water in the garage out onto the street. They took quick action by figuring out how to shut off the water meter at the street, which required a key that they were able to obtain from a neighbor! Thanks to Kelly and Kerri, the water got shut off and helped prevent any further damage. They were also able to help a few other neighbors during our bad weather. A big welcome to the RRWGA and Robson Ranch!