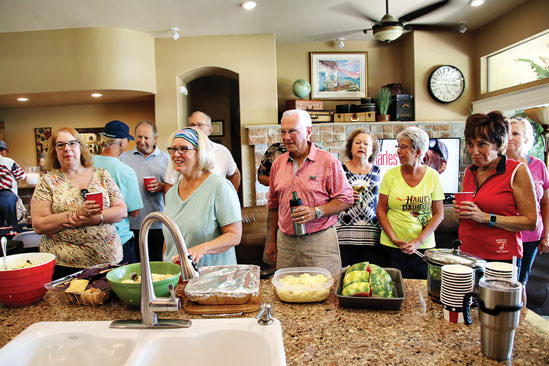 Stan Brein
What a month! So much planned; so much accomplished!
Dennis Dotson planned a great weekend trip to Granbury on June 28 and 29. The group included the Dotsons, Conleys, Aces, Barnetts, Sicos, Conways, Bakers and Collins'. Structured as a "Beat the Heat" ride, the gang started early and avoided the heat of midday, meandering through the great roads west and south of us. Folks stayed at the Hilton Garden Inn on Lake Granbury. Lunch was at the Filling Station on the square. Sightseeing and shopping occupied the afternoon. The highlight of the trip was seeing the hit show Grease at the beautiful Granbury Opera House.
The show features Rydell High's senior class of 1959: duck-tailed, hot-rodding Burger Palace Boys and their gum-snapping, hip-shaking Pink Ladies in bobby sox and pedal pushers, evoking the look and sound of the 1950s. Danny and Sandy try to relive the high romance of their Summer Nights as the rest of the gang sings and dances its way through such songs as Greased Lightnin', It's Raining on Prom Night, Alone at the Drive-In Movie recalling the music of Buddy Holly, Little Richard and Elvis Presley that became the soundtrack of a generation.
With little time to unpack the bikes from the ride home, the group met on July 3 for a trailer decorating party for the Independence Day parade. Graciously hosted (again) by the Bakers, the Breins, Conleys, Sicos Riddles, Bryants, Aces, Wallaces, Schaefers and Donna Henry enjoyed delicious potluck offerings and then moved outside to create a float of distinction. And what a show of engineering, carpentry and craftsmanship in order to mount the club banner!
The parade was a great success. Morning cloud cover cooled the temperatures and allowed the large crowd to relax and enjoy the endless procession of entrants. With Mike Conley's Gold Wing secured on the trailer, club members jumped on for the ride, with Jim and Dee Sico, Donna Henry and Ed Schmidt following on their bikes.
The July breakfast ride was to the Beacon Café and Country Store. The tiny cafe on the Hicks Field runway has always been known as a secret back-road hangout between Haslet and Saginaw. Located at the edge of this small airport, with planes taxiing past the dining-room window, the Beacon offers breakfasts or burgers with a view. The Bakers, Wallaces, Riddles, Barnetts, Bryants and Art Lozano rode out for this one.
And once again, a big thank you to Mike Conley for conducting a club session on July 23, on the installation, calibration and use of our Sena 30K Bluetooth communication headsets. Feedback on the session was excellent. It is so important to be able to communicate and interact on the road for safety and the cohesion of the group.
Upcoming events include our popular Quarterly Social and Club Meeting on August 15.
See you on the road!
Beware of cagers and keep the rubber side down.