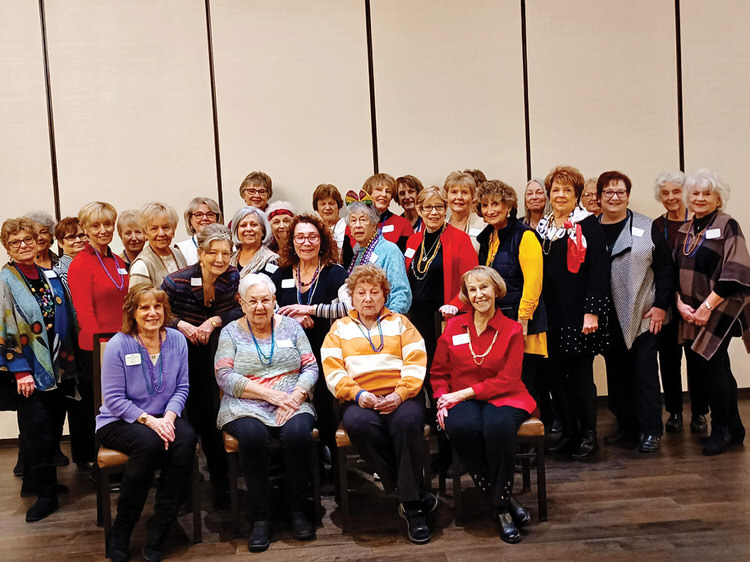 Peggy Crandell
Let's do tea! Sounds simple, right? Or was it? The afternoon of Jan. 20, the Rockin' Red Ranchers gathered for "high tea" to enjoy royal fare of scones, tea sandwiches, and tartlets … who knew during this soiree, they would discover a murderer's identity? While enjoying bubbly glasses of Prosecco, an intriguing tale of murder, the homicide of Pierre Dupre, unfolded. The killer was ultimately revealed after clues were shared in a most colorful and entertaining way from the suspects—in this case, members of the Queen's Court.
Kudos to Janice Forthman for her creativity and humor in writing and directing this murder mystery for our club. Janice, you brought the house down!
The afternoon high tea kicked off the Rockin' Red Ranchers new year with Sally Ryerson, outgoing queen, crowning our new queen, Judy Ondina. Members formed teams of three and chose a month in which to host an event. Queen Judy, her Court, and all the Rockin' Reds are anticipating a fun-filled year with a variety of monthly activities.
Praise and compliments to Chef Patrick for the "fit-for-a-queen" menu—everyone raved about Chef's delicious scones! Also, a big thank you goes to our Wildhorse catering staff for their superb service.
It was an over-the-top kick-off to 2022!