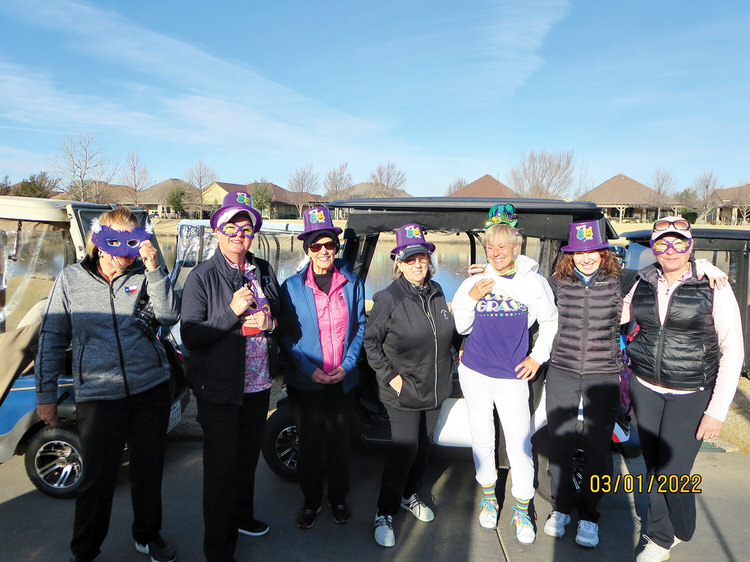 Virginia Wheeless, Robson Ranch Women's Golf Association
March 1 marked a day of celebration for many around the world. It was Shrove Tuesday, or maybe you called it Pancake Tuesday. Most of us referred to the day as Fat Tuesday or Mardi Gras, a day to wear purple, green, and gold; fly balloons; and throw confetti. The day to atone for our sins and prepare for lent and Easter. It was also the 150th birthday of the nation's first national park, Yellowstone. For women, it was the beginning of the month when we celebrate women and our history.
For Robson Ranch Women's Golf Association (RRWGA) golfers this year, it was Opening Day. Forty-three women came out to hit some balls, count strokes for the big day, and participate in new traditions provided by the RRWGA Playday Committee. First, only holes beginning with a T or F would count in a golfer's score, such as holes number two and four. Second, scores would be kept on the new Live Scoring and Team Registration System. It's simple enough—one person on the four-person team keeps scores on their phone via the Golf Genius mobile app. Players can monitor their own scores and that of their team partners, as well as other golfers playing on other teams. Since this is a new system, the Playday Committee left nothing to chance. They had spent weeks educating select members on how to use the system, and every team on Opening Day had at least one educated golfer who could keep score. Then, two Playday Committee women toured the course during play and assisted with any questions. The system worked flawlessly! At the end of play, winners were crowned: Flight 1: 1st Sue Galinski, 2nd Okcha Cummings, 3rd Cindy Sterling; Flight 2: 1st Ann Brehm, 2nd Jackie Williams, 3rd Shirley Green; Flight 3: 1st Deborah Reed, 2nd Yvonne Callaway, 3rd Gabie Bull; Flight 4: 1st Peggy Puckett, 2nd Barbara Trotter, 3rd Kimberly Juneau.
The RRWGA recently revised its membership to include all women who are residents of Robson Ranch. Membership includes women who have committed their intent to reside at Robson Ranch Denton, Texas, by entering into a purchase or lease agreement of a term of not less than 12 months for an existing or new home at Robson Ranch. Anyone interested in joining the RRWGA can contact Chris Hagen, membership chair, at [email protected]