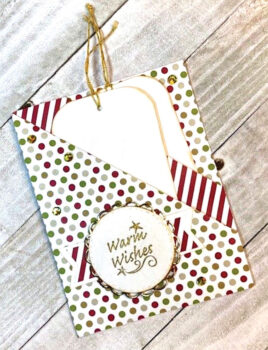 JoAnn Gantos
The Sassy Stampers Club reflected on what 2020 has meant to us when Tami shared her thoughts on our club Facebook page recently. Our lives turned upside down and every which way as COVID-19 came into our world early in the year. With our club being so large, we still cannot meet all together. Tami Fenton, our club vice president, reflected on how much she missed fellowship at our monthly meetings. Prior to the meeting being called to order, the room would increasingly grow louder with laughter and discussions. As Tami mentioned, it sometimes took a few calls to order till we settled down. It is sad to think we have not met as a club since February. Club members posted their reactions to Tami's post and that was very touching. We are so grateful to Tami for being brave and using Facebook Live to continue our meetings, and allowing us as club members to remain connected. We are thankful for our friends within Sassy Stampers and are looking forward to getting back to normal sometime in 2021. Until then, we will continue to carry on as is.
Sassy Stampers held their Facebook Live meeting on Saturday, Nov. 21. April Bayne, our November project lead, along with the help of Diana Krug (our club president) designed a really fun Christmas card that is so versatile. This card has so many possibilities on how to use it and put it together. Tami demonstrated some of the variations on the video. The card has two slots that can be used for pull out notes or gift cards. Great idea for year-round. April prepared the card kits with a stamped and heat embossed sentiment, sequence, decorative string, and oh so many different papers to choose from. Of course, Tami makes it look so easy, and with the video and directions it really is a great card. We missed April's commentary and look forward to her future card ideas.
At the close of the video we were encouraged by a comment Diana made to post pictures of the cards we make. With so many pretty papers provided for this card, it will be fun to see the finished cards.