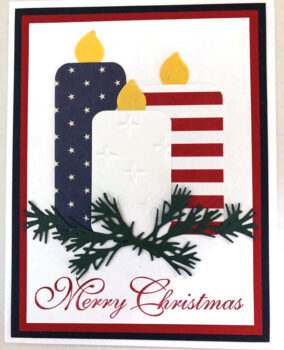 JoAnn Gantos
The Sassy Stampers Club is an avid supporter of the Support Our Troops (SOT) club by providing greeting cards throughout the year that are sent to troops related to Robson Ranch residents. In the past few years, we have been providing Christmas cards for SOT. This year Debbie Thomas led the project. Back in June, Debbie requested sample cards from our club. She combined these samples with last year's samples and four designs were selected by the Sassy Stampers SOT team.
These cards were forwarded to the SOT club and they selected a winner. The winning design was made by JoAnn Gantos. Now that a design was determined, the SOT wanted 100 of these cards, so Debbie Thomas got to work. With COVID-19 still putting a hitch-in-our-get along, Debbie found volunteers who already had the dies, embossing folders, papers, and more, to get all the parts and pieces together. Here is a breakdown of all those involved and their responsibilities. Marti Goodrich, with the help of Sandy Masoner, cut and scored all the card bases out. Debbie Thomas used her Scan-n-Cut machine to cut the red and blue background mats for the card as well as all three candles with flames. Marti also stamped the greeting for the card front and Sandy dry-embossed one of the candle papers. JoAnn Gantos die cut all the greenery for the cards. The 100 cards were assembled by Patty Cohen, Diana Krug, Marti Goodrich, Sandy Masoner, and Debbie Thomas.
Debbie began this project in June and delivered the completed cards mid-August to Nancy Thomas with Support Our Troops. These cards will get a handwritten note inside the card and will be mailed to the troops in December. It takes a great project lead to accomplish this feat. Add COVID-19 into the mix and it takes great teamwork with a great leader. Thanks, Debbie, for taking this project on; special thanks go to all those mentioned in this article for helping too!