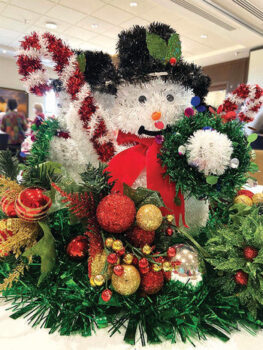 JoAnn Gantos
The Sassy Stampers club held their end-of-year celebration/Christmas party on Dec. 11. Table centerpieces were designed by club members and were absolutely beautiful. Such a fun group of ladies to spend time with. Jean Euker, a longtime club member, facilitated two fun games that all enjoyed.
Sally Hampton, our acting vice president, arranged the party details, and it was perfect. A great salad luncheon was provided, and to top it off, Jean also provided the dessert. Sooooo yummy!
A gift exchange took place after the luncheon, and it was so fun—lots of stealing and shenanigans taking place.
If you have some spare time, please check out the Creative Arts & Technology Center display windows. April Bayne and Jean Euker created two wonderful window displays in December for Sassy Stampers. Outside of Room 104 is our normal display window full of beautiful cards made by our club. Absolutely stunning spotlight window this year, ladies. Thank you for your creativity. Loved the lower window where you give the public an idea of what goes into making a card. And the cards looked wonderful in the window.
We look forward to 2022 with open eyes and hands ready to make cards under the leadership of our new officers Lisa Olson, Sondra Hall, Denise Switzer, and Shirley Monge. Keep on Stampin'!