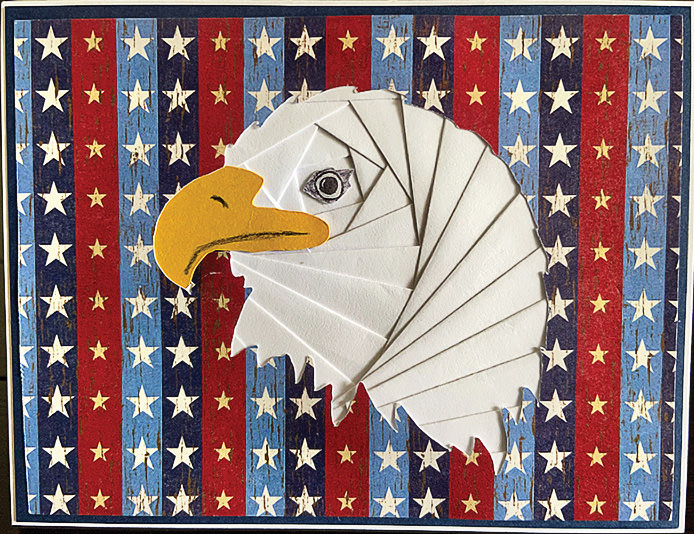 JoAnn Gantos
The Sassy Stampers held the first in-person meeting since the pandemic began. Our last in- person meeting was held February, 2020. After 16 months and with extra precaution, we actually held two meetings to reduce the amount of people in the room. It was a complete success and a greater delight to see everyone again.
Our club president, Diana Krug, was the project lead for our July meeting. She designed a beautiful iris fold card of a bald eagle. With the patriotic background and the fact that it is July, and an anniversary of another type of eagle landing on the moon, it was absolutely fitting as a patriotic themed card. This was a very intricate card and Diana presented it with clear instructions. Lots of folding and trimming, and when the card was completed, everyone had a great sense of accomplishment. A good many of our members donated the completed card to the Support Our Troops (SOT) team. Our SOT team provides cards to the Support Our Troops Club to mail out to actively deployed service members that are family or close friends of Robson Ranch residents. This is a win-win for everyone!
We are looking forward to finishing out the year with in-person meetings. It was wonderful seeing club members again. We are grateful for the ability of continuing to meet in person but also grateful for meeting online via videos created by Tami Fenton. It took a couple of months to get things running smoothly online, but well worth it. We continue connecting via Facebook by posting pictures of cards we make, techniques we learn, and information to share with others. Recently, a club member posted information on how to solve an issue with intricate dyes. Thank you, Theresa Rosprim, as that solution you presented has helped others.
We look forward to meeting again next month. Until then, "keep on stamping."