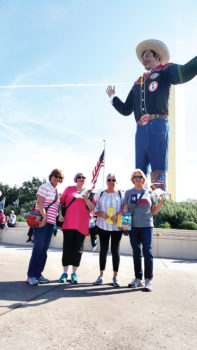 Vicki Baker
Big Tex . . . Fletcher's Corny Dogs . . . Funnel Cakes. There's no better place to learn "Texan" than at the State Fair of Texas. In October more than 100 Road Runners traveled by coach to this iconic month-long event.
Big Tex welcomed us with a "Howdy Pardner." Since starting in 1886 the State Fair of Texas has celebrated all things Texan and its Lone Star culture. Although much has changed since its humble beginnings as a local fair and exposition, the fair still embraces its historical roots and strives to preserve its traditions. The fair had something for everyone, and Road Runners enjoyed all the food, livestock shows, craft exhibits, auto show, live music, midway lights and festivities.
They say, "Everything's bigger in Texas," and the fair definitely proved that true. To discover a listing of the even bigger and better Road Runners trips and day excursions planned for 2018, visit our website at  www.rrrrclub.com.