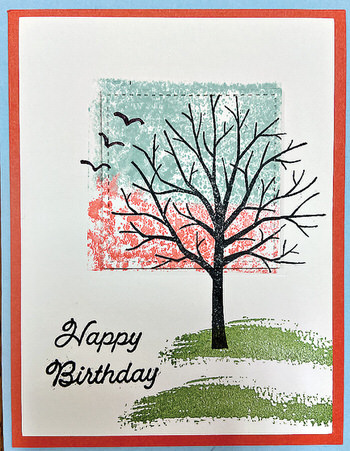 JoAnn Gantos
The Sassy Stampers met on Sept. 18. Our project leader this month is Debbie Thomas. Debbie designed a beautiful card that uses a different technique for inking. So much fun! As with all the cards we make, this technique can be used on any type of card design. That is what is so fun when stamping and making cards. It seemed like most everyone attending our meeting enjoyed the card. Thanks, Debbie, for volunteering as project leader this month. We know that determining the design and making up all those card kits takes time and effort.
Later this month Debbie will be leading the Support Our Troops Christmas Card project. Club members were asked to submit card samples of their design for consideration a few months back. Our SOT team in the club then submitted the samples to the Support Our Troops club at Robson Ranch to ultimately select a winner. This card will be mass assembled by volunteers from our club and then presented to the SOT club for mailing to the troops.
In addition to the Christmas Card project, people in the club who would like to donate cards for the SOT Silent Auction are gearing up. The deadline for providing cards to this project leader is Oct. 15. Robson Ranchers will be able to bid on our beautiful cards with the proceeds going to the great Support Our Troops cause.
It has been very rewarding meeting in person the last three months. Everyone seems to enjoy getting back together and making cards. If you are in the CATC building, check out some of our cards in the display window outside of room 104. In the meantime, Keep on Stampin'!