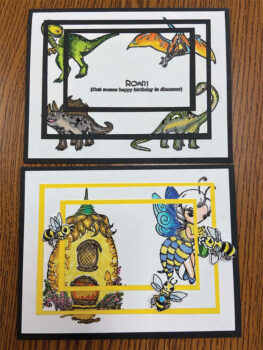 JoAnn Gantos
The Sassy Stampers held their last online meeting on June 19. Sally Hampton, our club interim vice president, was our project lead for our June card. In addition to providing card kits for our club members, Sally even provided some stamps at little cost for any member who was in need of stamps to make the card. The triple time stamping makes for such a beautiful card. In addition, this card is so versatile and can accommodate any occasion with changes in color, stamp, and theme. Sally provided many pictures of sample cards to show other possible card ideas. Tami Fenton provided a video demonstration on how to make the cards along with the versatility in making the card your own.
We are excited to announce that our club will begin meeting in person for our July monthly meeting. We are so excited to finally get to see each other in person. We will be using the suggested CDC guidelines to ensure safety for our members. No masks will be required however, we encourage all club members to do what feels best for them. If that includes a mask then bring it.
A special thank you goes out to Tami Fenton for all her time spent making our online meetings possible. She began making videos for us in June 2020. At that time, Tami was still living here in Robson Ranch and was our club vice president. In 2021, Tami moved away but still continued to make videos for our online meetings. In addition, Tami was instrumental in setting up our Sassy Stampers Facebook page, another way to keep us connected through the pandemic. We are truly grateful to Tami!
We look forward to our club meeting for the rest of the year. It will be awesome to see everyone again, in person! Until then, keep on stampin'!