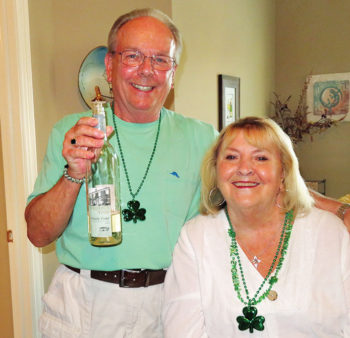 Tom Zumann
Wine Knots wine tasting group met at the home of Kathy and Tom Zumann on March 16 and featured wines from three Wisconsin wineries. Peninsula Red, from the Door Peninsula Winery, was a Meritage blend of cherry, merlot, and cabernet sauvignon. The next selection was Prairie Fume, an American seyval semi-dry white wine, produced by the Wollersheim Winery. Last, but certainly not least, was Naughty Girl, a semi-sweet raspberry and merlot blend, produced by the Von Stiehl Winery.
The Wisconsin theme continued as we enjoyed hot beef sandwiches, coleslaw, Milwaukee kosher dill pickles, Wisconsin cheeses, bacon-wrapped brats, and deviled eggs, just to mention a few!
Great wines, great food, great laughter, great friends!