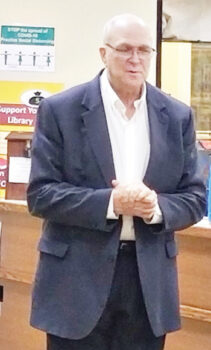 The November Robson Ranch Catholic Club meeting was held on Nov. 9 at the CATC. Marge Lane opened our meeting with prayer and some background information about our speaker Randy Bollig. Our president, Irene Manning, who usually opens our meetings, was busy practicing with the Robson Choir for their annual Veterans Day Concert. A very special thank you to Marge for always being ready to help in any way she can.
Randy Bollig is the executive director at Loreto House of Denton. Randy explained how Loreto House operates to provide caring and compassionate services to women dealing with an unplanned pregnancy. Although Loreto House is primarily for women, Randy explained how they also support men, and that they stay with the parent or parents, until the child is 36 months old. During this time, they provide not only material goods, but they also offer classes on parenting. All services at Loreto House are provided free of charge.
This meeting was the last time our members had the opportunity to donate to our Christmas Outreach Project for Msgr. King's Shelter. As always, the generosity of our Robson Ranch Catholic Club was overwhelming: a total of 119 pairs of men's boxers, 141 pairs of women's underwear, 45 hats, 61 pairs of gloves, 32 scarves, 34 pairs of socks, and 5 hat and scarf combos. There were also 44 bags, each containing a notepad, pen, tissues, lip balm, hand warmers, and a Christmas or inspirational card. There were gift cards totaling $125. Also, 432 tubes of toothpaste and 480 toothbrushes were donated by a sister of one of our members. Other items that were donated included three fleece blankets, eight men's t-shirts, four face shields, two raincoats, four bags of wipes, a flashlight, candy, two rosaries, and two cross necklaces. The outpouring of love and generosity for Jesus' poor was definitely felt by all.
We will be gathering on Monday, Dec. 20, at the Grill for our Christmas Celebration. Everyone is welcome to join for this wonderful dinner of chicken piccata, Caesar salad, breadsticks, tea, water, and dessert, all for the low price of $25 per person. So, please invite your friends and family. Tickets may be purchased by cash or check made out to RRHOA, no later than Dec. 13. Checks may be left in a box at either 8501 Sterling Drive or 10200 Countryside Drive. For more information, contact Marion Napurano at 940-262-0019 or Joyce Ambre at 940-262-3425.
Our first meeting of 2022 will be held on Jan. 11 at 7 p.m. in the CATC building. We are looking forward to an exciting year. Please join us.
Merry Christmas and God Bless!