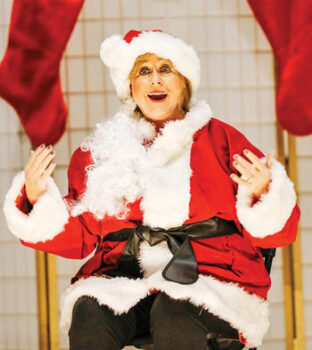 After months of play selection, auditions, and rehearsals, the curtains came up, and the Robson Ranch Drama Club actors and actresses, in three holiday-themed comedies, dazzled and entertained over 300 Robson Ranch residents, friends, and family members. The audience enthusiasm triggered the actors into high gear.
The first play was Sad Sack Santa about a department store Santa who's had his fill of unruly kids and obnoxious parents. Vicki Parr played the role of the supportive wife, and Tony Kura played the role of the frustrated Santa.
In a relatable scenario, five ladies share a trip to the Christmas Home Tour. Kathy Brasch, Ronda Gunther, Tammy Pickard, and Dawn Schiegg played the group whose comments to the driver, Kathy Jacobs, transformed her from merry to harried.
This was followed by a repeat of the start of the play The Christmas Home Tour, introduced by Doug Akins, with the parts now played by Jere Bone, Tom Gunther, Alan Stark, and Tony Kura. The men raised their voices to a higher pitch, delivering a female vocal fry!
The last play started as a black Christmas, where villain Rolland N. Dough, played by Edward Barnett, foreclosed on the entire town of Mistletoe. Things change for the better when Randolph, the Bowlegged Cowboy played by Alan Stark, finds the five golden rings, allowing the town's business owners to clear their debt. Jere Bone, Mary Fabian, Belynda Figueriedo, Ronda Gunther, Tom Gunther, and Tammy Pickard completed the cast.
Doug Akins directed all three plays with the assistance of co-director Candy Anderson. Support behind the scenes was provided by Joyce Ambre, Joyce Frey, Jamie Baggett, David Blassingame, Gayle Brothers, Len Brasch, Barbara Cummins, Janie Farnsworth, CJ Palecek, Katherine Vess, and Shirley Waterhouse. Mike Waterhouse was the photographer.
If you are interested in seeing what the Drama Club is all about, behind the scenes or on stage, please attend a meeting held the second Thursday of each month or write to President Mary Ornberg at [email protected]