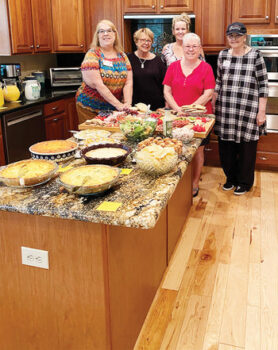 Joyce Brein
On Oct. 20, a beautiful, sunny, fall day, the Hattitudes enjoyed a fun-filled morning and afternoon socializing, dining, and competing in outdoor games.
Seventeen ladies gathered at 10:30 a.m. at the home of our gracious host Donna Ditch. Her lieutenants: Nancy Cartwright, Sue Fisher, Cheryl Smith, and Joyce Brein, helped ensure that all was prepared well and ran smoothly. Any athletic endeavor requires proper warm-up, so mimosas were served to prevent dehydration. A superb training food table was prepared by the participants, consisting of a charcuterie board, egg casserole, chicken Caesar salad, two different quiches, deviled eggs, brownies, cookies, and blueberry muffins.
After sumptuous dining and catching up on the latest news, the group adjourned to the backyard to demonstrate their competitive prowess. The field of play included a bocce court, Texas Toss, ladder ball, and ring toss. Needless to say, balls, bags, and rings were flying in the afternoon wind as the women demonstrated their Hattitudinal skills. (The mimosa "aiming" fluid worked its wonders, as everyone appeared to be satisfied with their efforts.)
Another monthly gathering of fraternization, fun, food, and frolic. Mission accomplished!