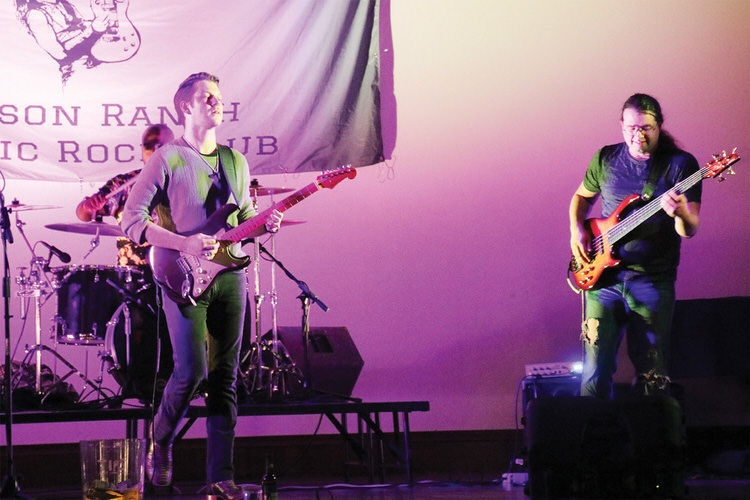 Stan Brein
Carly Simon sang to us about Anticipation. It creates buildup and excitement. But it can also leave us unfulfilled and disappointed. Not this time!
We were eager to finally see Michael Lee in person. We read the reviews. We looked at the videos online. Some of us may have even seen him on The Voice. But nothing compares to the real deal, live and in person. Michael Lee lived up to the billings.
Based out of Fort Worth, he was raised around Blues music and Blues clubs his entire life. He gives a nod to Andrew "Jr. Boy" Jones, Buddy Whittington, and Lucky Peterson. This was overlaid with the Country music he listened to in the honky tonks of the stockyards. It yielded a beautiful blend of Blues and Country sound. But the icing on the cake is the musicianship. His guitar playing is nothing short of phenomenal, with great bass guitar and drum sidemen.
Many of us viewed the Whipping Post Voice video in preparation for the show on Friday, Nov. 19, at the Robson Ranch clubhouse. Even looking at all the songs he performed for The Voice could not do justice to the range of styles and genres he demonstrated that evening. Everything from Contemporary Blues, Soul, R&B, Gospel, and Rock and Roll and Country was present, and he performed them with a style and energy that was superb.
The menu included ZZ Top ("LaGrange," "Tush," "Tube Snake Boogie"), Stevie Ray Vaughn and Double Trouble ("Pride And Joy"), Rod Stewart ("Stay With Me," "Hot Legs"), and Stevie Wonder ("Superstition," "Sir Duke"), just to name a few. Add some Gnarls Barkley ("Crazy"), Sam Cooke ("Another Saturday Night"), James Brown ("Get Off Of That Thing"), and you have a great show. This was topped off with a bit of "Dueling Banjos," a "Somewhere Over The Rainbow" guitar riff, some Ray Charles "I Got A Woman" call and response, and a Prince "Purple Rain" audience light show finale. Over two continuous hours of wall-to-wall great singing and guitar jamming. The crowd began moving onto the floor early and continued to dance and party through the show. If you want to see more, go to www.themichaelleeband.com.
Darryl and the crew had a good time distributing tickets around the Ranch in varied and unique ways. This was the purpose of the Pay It Forward Concert. A thank you to the friends and neighbors who have supported the Robson Ranch Classic Rock Club concerts through the years and have shown faith as the concept was developed and evolved.
Next up: "Desperado" (Eagles Tribute) dinner and concert on Thursday, Dec. 9. And there is much more on tap for 2022.
Once again, thank you to Jeremy, Shelbi, Whitney, Jillian, Steve, Scott, and the entire Robson crew who work to make the shows a success.
Follow us at www.facebook.com/groups/361485941133904, and get on the mailing list at [email protected]
Keep on Rockin' The Ranch!